The best free games for iPhone and iPad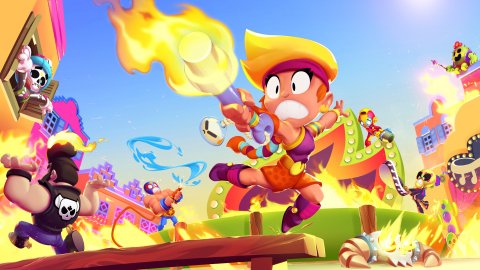 The Apple ecosystem is now full of apps and video games to download, many of which are totally free. The so-called free to play are titles that are based on the concept of free play and microtransactions to support development and updates, even if the latter are often not decisive for the "success" within the same.
Inside the boundless catalog for iPhone and iPad we are going to find out, to date, which are the
best free games for
iPhone and iPad.
Pokemon Go
Pokemon GO was one of the greatest mobile phenomena It represents one of the greatest successes ever and a great entry of
Nintendo
in the mobile world: the first game we mention is definitely Pokémon GO. Developed by the Americans of Niantic, a software house born as an offshoot of Google, in 2015 they became independent finally coming to collaborate with Nintendo and The Pokémon Company.
This title makes the most of geolocation and augmented reality to allow players to superimpose the video game on real life.
The success of
Pokémon GO shows no signs of stopping even after years of its release and indeed, it seems unstoppable thanks to the continuous support of the parent company.
Genshin Impact
Genshin Impact is one of the greatest Mobile successes of all time Another mobile game, another incredible planetary success: Genshin Impact is a free-to-play action RPG developed by the Chinese of miYoHo and released in September 2020. Since then, the overall turnover of the game has reached record levels until it enters in the Olympus of the "scroungers" with the beauty of 2 billion dollars.
The world of Genshin Impact is extremely diverse, colorful and populated. The design is clearly inspired by manga and the technical sector is truly first level, obviously with some differences based on the device on which it runs. The free to play mechanic, supported by the obvious microtransactions, does not force the player to make compulsory cash outlays, with a game that is totally enjoyable even without purchases.
PUBG
Many modes and characters in the mobile version of PUBG We have so far talked about two great successes from critics and the public, the third free to play game that we recommend you download is finally the "King" of the mobile game: PUBG, an acronym that means PlayerUnknown's Battlegrounds. For the few who still do not know it, it is an online shooter with battle royale mechanics that has inspired games like
Call of Duty
Warzone and Fortnite: PUBG places you within a map practically devoid of any equipment and weapon, in search everything you need to face other players and stay the last one alive.
The game's performance in the iOS versions depends a lot on the device used to play, but with latest generation phones PUBG runs beautifully, even with the necessary cuts. The touch controls, initially difficult for many, over time become manageable even by players accustomed to a pad, however compatible via bluetooth.
Roblox
Roblox is a universe within a video game, from discover There is one title in particular that represents a sort of large container of activities and mini games that has had a resounding success both on the classic platforms and mobile, let's talk about Roblox, of course. We advise all Apple users to download it and give it a chance because Roblox is not part of a specific videogame genre. Rather, inside there are hundreds of different activities ranging from adventure to battle royale, passing through management and board games.
The Roblox community is the one that continuously guarantees new contents and games in its eco system, self-financing itself with microtransactions (often and willingly not mandatory except for aesthetic objects). In addition, Roblox runs fairly well on almost all devices, even those not quite the latest generation.
Legends of Runeterra
Another incredible success for mobile devices Are you tired of playing Heartstone? On iPhone and iPad there is an alternative of excellent thickness that responds to the name of Legends of Runeterra. This is a truly intriguingly designed card game, developed with a captivating, clean and tremendously well done graphic style. Compared to other similar games, its peculiarity is to always make you feel in full control of the game, leaving a less predominant part of the game to chance.
One of the best features of this game is its truly free to play nature, which we have taken into consideration for any video game mentioned in our special. During the advancement you will never find yourself in such difficulty as to justify a forced purchase to continue, relegating its microtransactions to aesthetic customizations and not influencing the playability.
an image of the excellent League of Legends We talked about shooters, card games, RPG, but could a great MOBA game be missing from our list of the best mobile games to download on iOS? We also include League of Legends in our special, with a version for Apple smartphones and tablets that is really well made and functional to the touch controls of portable devices. After 10 years from its debut, League of Legends: Wild Rift was released, a product designed and developed to be more accessible to the general public, as well as to be suitable for faster games (as every mobile game should do). In any case, the atmosphere, design and main structure remain unchanged, making anyone who looks into Wild Rift feel "at home" coming from its PC version.
The new control system designed for Apple touch screen systems is extraordinarily functional and well thought out, making League of Legends: Wild Rift very comfortable and practical to use without a mouse and keyboard. Ultimately, it is a real new game based on the League of Legends brand, to be tried both for old players and for those approaching it for the first time.
Pikmin Bloom
Augmented reality and geolocation for the new Pikmin The adventure and commitment of Nintendo in the mobile world seems to be unstoppable, with many titles and many of its successful brands landed on mobile phones and tablets. After resounding successes like Super Mario Run, Mario Kart Tour and Dr. Mario World (which we obviously recommend) it was also time for Pikmin Bloom, an augmented reality and geolocation game in full Pokèmon GO style.
The game is just as exciting as the latter, taking you to explore the streets, alleys and squares of your city in search of new lovable Pikmin creatures scattered all over the place. Also in this case the microtransactions are not essential to continue, making it a real free to play
to try absolutely
.
Animal Crossing: Pocket Camp
the game is portable but offers many hours of fun After Pikmin we talk about another Nintendo title that has had a great success, both in the media and with the public. Let's talk about Animal Crossing: Pocket Camp, a real new title in the series available totally free on all iOS devices. The Nintendo game, albeit with the due limitations (especially that of having to be managed on a vertical screen), managed to be functional and perfectly playable even with the touch screen, a control system already partially tested in the 3DS version.
The sense of progression (even if there is no real end goal) is tangible and well structured, making the player independent from microtransactions and compensating it continuously with the famous "leaf tickets". There are hundreds of objects and many other things to discover within Pocket Camp: the time to devote to it is virtually infinite, also considering the events and updates that the parent company has included during its life cycle.
Among Us
With the iOS version you can play with all the other consoles In our selection of the best free games to download on iPhone and iPad in this 2022 t
here are all
the major phenomena of recent times: Among Us could not miss . The latter, initially arrived "with the lights off", has been able to conquer millions of players and a fair world fame after being the center of attention of some important streamers. The idea behind the game is so simple that it is almost brilliant. Within a map, one or more players take on the role of a traitor who must sabotage the spaceship they travel on and kill the rest of the crew.
The game is based on the balance of suspicions and accusations of each participant, staging unprecedented dynamics for a video game such as interaction, dialogue and lies. Among Us is a cross platform title that allows you to join a game room regardless of which platform you are using. A must try!
Brawl Stars
In the picture, some of the many characters of this mobile phenomenon After the huge success of games like Clash of Clans and Clash Royale, the developer Supercell is back to top iPhone and iPad with a beautiful game halfway between a shooter and a classic brawler: the game is obviously called Brawl Stars. The characters are controlled with both virtual sticks, moving around the maps with one and simultaneously shooting with the other. The touch control and all the gameplay are perfectly balanced and functional to the game, on the other hand Supercell is very expert in mobile games and this aspect is immediately noticeable.
The progression system is linear and very rich regardless of the microtransactions, and in the same way the online component is enriched by a matchmaking that works perfectly. Brawl Stars is without a doubt one of the best games for mobile and tablet that you can download for free.
As you have noticed you are spoiled for choice, the vast Apple catalog could make you play all year round without spending anything!
Have you noticed any errors?