Steam, ranking of the most desired games: Elden Ring first, God of War beats Starfield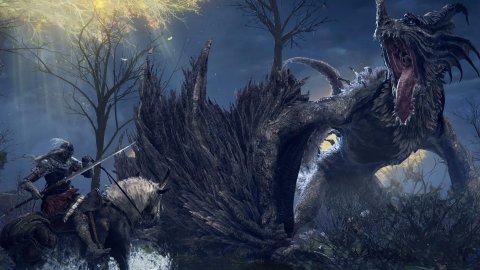 Steam, ranking of the most desired games
202
2 will be
a year full of particularly interesting new releases and the ranking of the most desired games on Steam offers us some indications on what are the most awaited productions by the buyers of the Valve store. In first place we find Elden Ring, followed by Dying Light 2: Stay Human. In the top 10 we also find the PC version of
God of War
in fifth place, while Starfield is ninth.
The ranking is based on the number of users who have added a game to their wishlist and are therefore interested in possibly
buy them at
the exit. Below is the top 20 of Steam's most wanted games:
Elden Ring Dying Light 2: Stay Human Party Animals Hollow Kinght: Silksong God of War The Day Before Vampire: The Masquerade - Bloodlines 2 STALKER 2: Heart of Chernobyl Starfield Frostpunk 2 Warhammer 40.000: Darktide
Monster Hunter Rise
Lost Ark Dwarf Fortress Karlson Manor Lord Company of Heroes 3 Atomic Heart Victoria 3 Forspoken
As we can see from the rankings, in first place we find Elden Ring, which should not be too surprising given
that we are
talking about one of
the most anticipated
games of 2022. The work of FromSoftware in these hours has surpassed Dying Light 2: Stay Human, which must "settle" for the second position. Surprisingly, on the lowest step of the podium we find Party Animals, a multiplayer title in which players can challenge each other in over 100 different mini-games with friends as various animals, all characterized by a deliberately bizarre physics.
Elden Ring, an image from FromSoftware's new work In fourth place we find Hollow Knight: Silksong, the long-awaited sequel to Team Cherry's Metroidvania. The God of War port is also particularly awaited by PC gamers: it is fifth in the ranking, thus surpassing even brand new games such as S.T.A.L.K.E.R. 2 and Starfield, respectively in eighth and ninth place. However, it should be borne in mind that many users will use the Game Pass to play both games.
It is also interesting to note Forspoken in twentieth place, a sign that many have not digested Square Enix's new pricing policy .
Source Have you noticed any errors?
---
Steam Reveals Its Best-Selling and Most Played Games of 2021
Steam has released its Best of 2021 lists and, while it doesn't rank the top games in each category, they do reveal which games were the most played, sold the best, and much more.
Steam's Best of 2021 lists include Top Sellers, New Releases, Most Played, Early Access Grads, Best of VR, and Controller Friendly; and games like Valheim, New World, Halo Infinite, Battlefield 2042, PUBG, Counter-Strike and Grand Theft Auto V appear in multiple categories.
The Top Sellers category features the top 100 games as measured by gross revenue and places each one into the Platinum, Gold, Silver, and Bronze tier; but it does not detail how much a game has to earn for it to qualify for a new level. The Platinum Top Sellers, in alphabetical order, are as follows;
Apex Legends
Battlefield 2042
Counter-Strike: Global Offensive
Dead by Daylight
Destiny 2
Grand Theft Auto V
Naraka: Bladepoint
New World
PUBG: Battlegrounds
Tom Clancy's Rainbow Six Siege
Valheim
The New Releases category is measured the same way as the Top Sellers one, but games only qualify if they were released in 2021. Sorry, GTA V, but this is one award you can't win! The Platinum-tier New Releases, in alphabetical order, are as follows;
Back 4 Blood
Battlefield 2042
Farming Simulator 22
Halo Infinite
Mass Effect: Legendary Edition
Naraka: Bladepoint
New World
Outriders
Valheim
The Most Played category celebrates the games that reached the most 'highest peak concurrent players' throughout the year. The games that reached the highest tier - Over 200,000 Peak Players - are as follows;
Apex Legends
Counter-Strike: Global Offensive
Cyberpunk 2077
DOTA 2
Grand Theft Auto V
Halo Infinite
New World
PUBG: Battlegrounds
Rust
Valheim
The Early Access Grads category is all about rewarding the games that left Early Access and earned the most gross revenue in 2021. The Platinum-tier Early Access Grads, in alphabetical order, are as follows;
Breathedge
Chernobylite
Draw & Guess
Endzone: A World Apart
Hell Let Loose
GTFO
Medieval Dynasty
Skul: The Hero Slayer
Solasta: Crown of the Magister
Subnautica: Below Zero
Totally Accurate Battle Simulator
Wildermyth
The Best of VR category collects the top-selling VR-exclusive experiences that earned the most gross revenue in 2021. The Platinum-tier Best of VR games, in alphabetical orders, are as follows;
Arizona Sunshine
Beat Saber
Blade & Sorcery
Boneworks
Hal-Life: Alyx
Hot Dogs, Horseshoes, & Hand Grenades
Into the Radius
Pavlov
Superhot VR
The Elder Scrolls V: Skyrim VR
The Walking Dead: Saints & Sinners
VR Kanojo
Lastly, the Controller Friendly category honors those games that had the most daily active controller players in 2021. The Platinum-tier Controller Friendly games, in alphabetical order, are as follows;
Apex Legends
Cyberpunk 2077
eFootball 2022
FIFA 21
FIFA 22
Forza Horizon 5
Grand Theft Auto V
Guilty Gear -Strive-
Halo Infinite
Monster Hunter: World
Tales of Arise
The Binding of Isaac: Rebirth
To see how Steam's top games compare to IGN's choices, check out all the winners from our Game of the Year Awards 2021.
Have a tip for us? Want to discuss a possible story? Please send an email to newstips@ign.com.
Adam Bankhurst is a news writer for IGN. You can follow him on Twitter @AdamBankhurst and on Twitch.