Abuse and online toxicity: Xbox boss would like a crossplatform ban system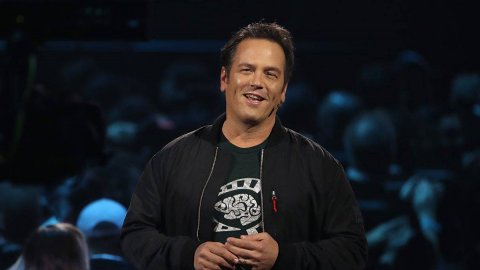 Abuse and online toxicity
In an extensive interview with Phil Spencer from the New York Times, the head of
Xbox
also talked about the possibility of introducing a cross-platform ban system to block users guilty of verbal abuse and toxic behavior online.
The journalist Kara Swisher asked Phil Spencer what are the initiatives taken by
Microsoft
Xbox to combat toxic behavior on online platforms, also asking for an assessment of what has been done and how much more there is to be done, even with respect to social media, where the freedom of speech can be a double-edged sword.
Phil Spencer first made it clear that Xbox Live is a very different platform from Facebook or Twitter, since it is not a space where it is simply granted free speech, since it is an environment strictly connected to interactions on video games.
For this reason, there are much more precise and narrow guidelines on that which may or may not be said: this obviously does not exclude the possibility of talking about politics or other topics, but tends to narrow the field on the possible contents conveyed on such a platform.
As for what has been done and how much more needs to be done to solve the problem of misbehavior, verbal aggression and general toxicity, Phil Spencer admitted that "there is still a lot to do", remaining a bit vague as to how much it concerns references to other platforms as well.
Phil Spencer, head of the Xbox division However, he has also shown himself open towards a possible system that can guarantee the ban of a person on different platforms, based on the seriousness of the behaviors: Spencer spoke about the ability to "transfer a list of banned users to other networks where you play". The Xbox Live system already guarantees that a nickname corresponds to a specific account and therefore anonymity is only partial, but Spencer's idea would concern the possibility of transferring a list of blocked users from one online service to another, presumably also of different platforms.
We are talking about blocks requested by users on other users, therefore not total bans, but this would already represent an extra security of not finding oneself in unpleasant situations when passing from one system to another. In the same interview, Phil Spencer also reported that the
Xbox Series X
| S have scored higher sales than any other Xbox so far and talked about the
Xbox Game Pass
differences to Netflix.
Source Did you notice any errors?
---
Man jailed for online racist abuse of footballer Yannick Bolasie
A man who sent racist abuse to footballer Yannick Bolasie, and was then found to have images of child abuse on his phone, has been jailed.
Kirk Thompson was handed a year-long prison term at Kirkcaldy Sheriff Court in Fife on Thursday by Sheriff Alastair Brown, who said the 22-year-old poses a risk of significant harm.
Thompson, of Ravenscraig in Kirkcaldy, was exposed on social media by the DR Congo star, who shared a screenshot of the racial slur sent to him in a direct message in March last year.
The footballer branded his abuser a "keyboard warrior" and a rat.
Sheriff Brown told Thompson that his actions were deliberate and contributed to what he described as a trend of abuse being sent online and a toxic environment.
He said: "The court is aware that those in any sort of prominent position in public regularly receive abusive texts and are denigrated online by those whose only qualification to do so is they are able to switch on a mobile phone."
He said the words used seek to "diminish the individual", and told him: "Courts will always take abuse of that sort very seriously."
Yannick Bolasie was targeted with racist abuse by Kirk Thompson (Paul Harding/PA)
At the time, midfielder Bolasie, 32, was on loan to Middlesbrough from Everton.
When the footballer saw the message, he shared it and, accompanied by a rat emoji, he wrote: "Something seriously wrong with people… keyboard warriors.
"Still yet to meet a person who had this energy when they saw me."
Thompson pleaded guilty to three charges: possession of indecent images of children, permitting to be taken or making indecent images of children, and sending a racist message.
During a police search of his phone last March, four indecent images and movies were discovered.
Two were rated category A, considered to be the most severe, and two were category B. One other image found with text added to it was reported as category C.
Sheriff Brown ruled the harm to be significant, despite the small number of images found in Thompson's possession.
Thompson was sentenced to a 12-month prison term for the first two charges, and to four months for sending the racist abuse. The sentences will run concurrently.
He must also sign the sex offenders register.