Tokyo 2020, holograms will be staged at the Olympics
Tokyo 2020
Discovery's Cube technology teleports athletes to the studio and analyzes their performance in an analytical and more spectacular way
(Photo: Discovery +) To best accompany the live broadcasts of all the competitions of the upcoming Tokyo 2020 Olympics, Discovery (which this year has the international exclusive of the entire event) presented the innovations of the Cube technology that virtually teleports athletes into the studio for even more immersion and involvement. At the same time, it adds new tools and graphical analysis capabilities of race performance to show every detail more clearly and analytically.
In a world where social distancing has become a deep part of everyday life, it is impossible imagine journalists crowded in search of a hot statement from an athlete at the upcoming 2020 Olympics in Tokyo, where all the utmost precautions will be taken instead. Thanks to Discovery +, however, the protagonists of the next Games will find themselves face to face with the interviewers, just as if they were in the same room.
Cube technology
The credit goes to Cube technology - already seen with its first version at the PyeongChang 2018 Winter Olympics and the past Grand Slam tennis tournaments - which cancels the distances by exploiting green screens and above all the virtual set with cameras able to move in the digital environment for maximum immersion and realism.
The multi-location studio set up for Tokyo 2020 will include up to seven different real-time settings and will leave viewers the possibility to choose the shots through the ad hoc 3D
Zoom
software.
(Photo: Discovery +) In addition to bringing the athletes virtually to the studio, the Cube
will also be
the reference point to relive in detail the races just ended and analyze their performance thanks to new tools. During the demonstration, former London 2012 long jump Olympian Greg Rutherford plumbed his own winning jump: "I was able to clearly see how my penultimate stride - crucial in the long jump - was much longer. than it should have been from a technical point of view; and I did a "clutch jump" that could have been potentially disastrous, since I had previously broken my hamstring precisely because of this jumping position ".
How to see the Olympics
Discovery + will broadcast the entire program of the Tokyo 2020 Olympics with over 3000 hours live from 23 July to 8 August with
up to 30
channels simultaneously to fully cover all 339 events of 48 disciplines. Great space will be given to the blue expedition with interviews, insights and focus on the races of Italian athletes.
Discovery + is also available on Amazon Prime Video (at 7.99 euros per month) as a channel, on Tim Vision (included, including the Eurosport 4k channel in 4k) and with Fastweb (free access for three months) for both mobile and fiber customers. Rai will be limited to 200 hours (but not on RaiPlay in streaming), while on Dazn it will be possible to view syntheses via Eurosport 1 and 2 Hd.
Videogames - July 13th
LeBron James lands on Fortnite
The deepest swimming pool in the world has opened in Dubai
Euro 2020, 5
football
series awaiting the final
Topics
Augmented reality Virtual reality
Sports
globalData.fldTopic = "Augmented reality, Virtual reality, Sport "
This opera is licensed under a Creative Commons Attribution-NonCommercial-NoDerivs 3.0 Unported License.
---
Tokyo 2020: Angelique Kerber latest tennis player to withdraw from Olympic Games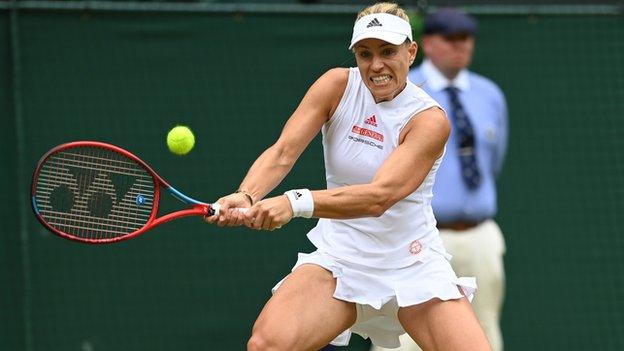 Kerber was beaten in the Wimbledon semi-finals by Ashleigh Barty
Angelique Kerber is the latest tennis player to pull out of this summer's Olympic Games in Tokyo.
The 33-year-old German wrote on Instagram that her body 'needs rest' after an 'intense few weeks', that included reaching the women's semi-finals of Wimbledon.
Kerber joins British number ones Johanna Konta and Dan Evans, plus 20-time Grand Slam champion Roger Federer in withdrawing from the Games.
The Olympics start on 23 July.
Three-time Grand Slam winner Kerber said participating in the women's singles event at Tokyo had been a 'constant motivation' for her to keep pushing throughout the season.
She added: 'Representing Germany in London 2012 and Rio 2016 as part of the German team has always been one of my favourite memories of my career so far.
'This makes it even more disappointing for me to accept the fact that my body needs rest after the intense few weeks that lie behind me and that I have to recover first before returning to competition later this summer!.
'Thank you for your support, as this has been a very difficult decision for me. Good luck to all my fellow German athletes in Tokyo #TeamDeutschland, I will miss you.'
Both Evans, 31, and 30-year-old Konta withdrew from the Olympics earlier this week after the pair tested positive for Covid-19.
Jamie Murray, who has competed in Beijing, London and Rio for Team GB, will replace Evans as Neal Skupski's partner in the men's doubles competition.
Swiss legend Federer, 39, has suffered a setback with an existing knee injury.
The tennis tournament at the Olympic Games begins 24 July.
57853719