Timberland: discounts up to 50% on footwear and clothing
Timberland
UPDATE 07/15/2021: we have enriched the product list with new accessories, including bags and backpacks.
We inform you that the well-known clothing brand Timberland has just launched a series of discounts that will allow you to buy footwear and clothing
with discounts up to
50%! This is a truly excellent initiative, which involves products for both men and women, with numerous high-quality solutions even for the little ones. As you will understand, this is a truly unmissable opportunity to make the last purchases before leaving for the summer holidays, especially considering that we are talking not only about a very popular brand, but also a very vast range of products with a unique style. .
As it is easy to imagine, the protagonists of this new promotion are shoes, boots, trousers and t-shirts and, perhaps even more interesting, is that all the items in the catalog enjoy an amazing discount. 50%, thus giving you the certainty of being able to buy the clothing that best suits your style at half price.
Having said that, given that we are now in the middle of summer, we think you might be interested in the Oxford model Cross Mark, with a lightweight insole and Timberland's exclusive energy return system, which will guarantee you excellent comfort at every step. Elegant and with a support rubber sole, they can be yours for € 70.00 instead of € 140.00. If, on the other hand, you are looking for a cheaper solution without sacrificing the typical quality of the brand, we suggest you consider the Oxford Amherst Knit model, which also enjoy a supportive rubber sole and flexibility that will allow your feet to enjoy maximum comfort. .
Obviously, there are many products, which is why our best advice, in this case, can only be to invite you to visit the official page. Finally, before leaving to your purchases, do not forget to follow us also on our Telegram channels, in particular those dedicated to Offers, Hardware & Tech, Clothing and
Sports
and Chinese products. If
you are in
terested in collecting coupons, you can consult our special page instead.
Our product selection
Men's Oxford AMHERST KNIT In navy blue | 70,00 € (140,00 €) CHUKKA 1973 NEWMAN men's boot in brown | 90,00 € (180,00 €) CHUKKA STORMBUCKS men's boot in brown | 75,00 € (150,00 €) Men's blue stretch jeans | 45,00 € (90,00 €) CHUKKA for men CITYROAM ALPINE in green | 80,00 € (160,00 €) OXFORD with smooth tip for men SQUALL CANYON in dark brown | 75,00 € (150,00 €) Trekking backpack Dardin in color | 50,00 € (100,00 €) Baycrest women's bag in brown | 78,00 € (130,00 €) Leather belt with squared buckle in brown | 27,00 € (45,00 €) 3 Pairs of men's piqué socks in black color | € 16.10 (€ 23.00) Hobo Echo Bay women's bag in black | 200,00 € (100,00 €) Tuckerman bag in black color | 250,00 € (200,00 €) Backpack with top zip opening Dardin in black color | 90,00 € (72,00 €) Women's tote North Twin bag in multicolor | 80,00 € (40,00 €) Canfield bag in black color | 120,00 € (96,00 €)
Follow us and stay informed about the best offers!
Page with all the news of the offer Save with sportsgaming.win Discount Codes Telegram channels: Offers | Hardware & Tech | Clothing and Sport | China Official YouTube channel of sportsgaming.win Official forum of sportsgaming.win Official Instagram profile of sportsgaming.win
---
Iconic Timberland Boots — Trade Dress Worthy?
by Dennis Crouch
Timberland has been selling its iconic boots back in 1973 – almost 50 years ago.  Actually, at the time the company name was Abington Shoes, but quickly changed its name to Timberland Boot because of the popularity.  Timberland did not patent or register a copyright the design, and the market it rife with copycat boots.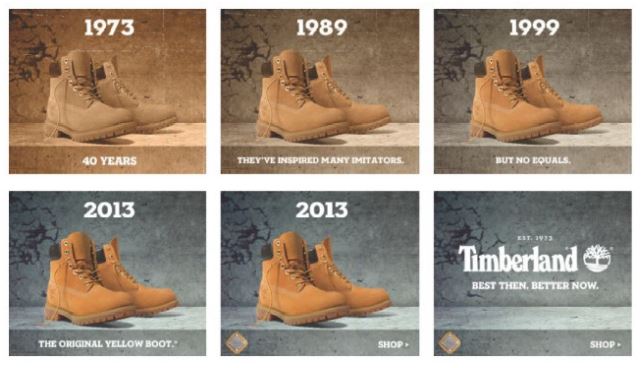 Over the past several years, Timberland has been attempting to register the shape of the boots as protectable trade dress. However, the USPTO's Trademark Trial & Appeal Board (TTAB) rejected the application, finding that the the company had failed to demonstrate that the boot shape had acquired secondary meaning in the eyes of consumers.  The examiner had also rejected the trade dress registration as  improperly functional, but the TTAB did not reach that issue.
In a new lawsuit, Timberland has asked a district court judge to overturn these rulings and find that the trade dress is distinctive and registrable.
Complaint: TBL Registering TM on Timberlands
In its brief, Timberland provides examples of other shoe shape trade dress that have been registered, including the classic low-top Converse sneakers.