The best games to take under the umbrella this summer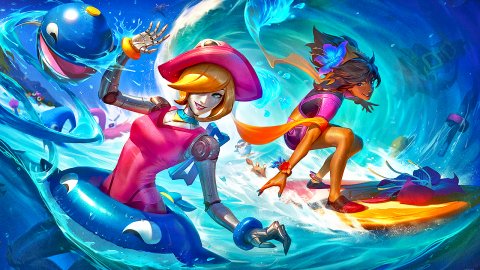 We start from an assumption. Enjoying a video game under an umbrella is neither more nor less like completing a crossword puzzle from The Puzzle Week, or listening to a song with headphones. Enjoying the sea also means making the most of our free time, free from any thoughts about school or work. And then, of course, let's also use it to have fun with our favorite titles. For obvious reasons we consider only portable consoles, in reality only
Nintendo
Switch (the only survivor in the portable market) and mobile devices such as tablets and cell phones. Taking a TV console on vacation would probably be too much even for the most passionate.
Playing a video game under an umbrella implies dedicating a more limited time to it than in the home environment, imagining having to divide between beach, friends, swimming in the sea and beach
tennis
tournaments. For this reason, we believe that an ideal beach title should be a hit and run game, that it doesn't require too much effort and that it shouldn't be followed too carefully. So let's avoid long role-playing games and dispersive adventures in favor of puzzles, brain teasers and all those ideal games to be played for a few minutes at a time.
Mario Kart
Mario Kart 8 E ' It is indisputably true that we (all) have a soft spot for Mario Kart, but the Nintendo title is the ideal video game to be enjoyed ... in virtually any situation! Holidays included. The depth of Mario Kart 8: Deluxe allows it to be played in long multiplayer sessions with friends, online, or in single quick races. It is precisely this kind of gameplay that is ideal for an umbrella title. A race every now and then, between a bath and another, to file the times and look for your personal best is one of the best ways to spend a few moments of longed-for vacation boredom.
Sonic Mania
Sonic Mania From one symbol to another, we couldn't help but think of our favorite blue hedgehog. Sonic Mania is now a few years old but it is still one of the most popular titles, ideal to be played without worries. The very structure of Sonic lends itself a lot to fast games, which needless to do on purpose is precisely its characteristic. Between an ice cream on the beach and a dip in the pool, completing one level of Sonic Mania after another is a great pastime. For all those who do not (yet) have a Switch, we recommend downloading any chapter on iOS or Android.
Monument Valley 2
Monument Valley 2 Let's talk about one of the most successful games on mobile devices, that Monument Valley 2 capable of over thirty million downloads between iOS and Android systems. As we said at the beginning, the puzzle genre lends itself particularly well to harp games to be played between one activity and another, with a simple structure but capable of entertaining for a few minutes or hours. For the few who still do not know it, the title of Ustwo Games is an isometric adventure with a top-down view in which we must guide the protagonist through mazes full of optical illusions and impossible roads.
League of Legend: Wild Rift
League of Legends
: Wild Rift A specially adapted and reduced version of the hugely popular MOBA has been released on smartphone that for years has fascinated millions of gamers all over the world, obviously we are talking about League of Legend and its spin -off called Wild Rift. The gameplay has been made faster and faster
in order to
take advantage of the portability of mobile devices. Compared to the PC counterpart, the "inhibitors" and the towers protecting the Nexus have been eliminated. The control system, suitably modified, is always deep, complex, but at the same time intuitive and quick to learn. A real gem to be enjoyed in your free moments, wherever you are.
Magic: The Gathering Arena
Magic: The Gathering Arena We know well the passion of many people for card games . Especially in our beautiful country, spending time with a game of broom or stealer is a matter of national identity and culture, ancestrally linked to long challenges at the bar of uncles, grandparents and relatives.
Card games 2.0 are represented by recent crazes such as Pokemon, Yu-Gi-Oh or dear Magic. The latter is the protagonist
of one of
the best video games
on cell phones and mobile devices, both iOS and Android, with the chapter The Gathering Arena. It is a very faithful transposition of the original "physical" game, with all its pros and cons. The whole pre-game phase is certainly missing, that is the trading and exchange of cards, but the title is incredibly enjoyable.
Mario Golf: Super Rush
Mario Golf: Super Rush Let us mention now of a real heavyweight of video games. Another exclusive Nintendo Switch title just released that will not fail to entertain us all summer and beyond. Obviously we are talking about the
new chapter of
Mario Golf, a popular and long-lived Nintendo saga that did not show up since the distant chapter for 3DS. In Super Rush there are many new ideas, new multiplayer modes and an adventure that acts as a game-in-game (or a very long tutorial). In any case, there is always the classic quick game that under the umbrella will surely be the one to prefer.
Dirt Bike Unchained
Dirt Bike Unchained Let's go back to the mobile world with one of the hottest titles and escape available on the various digital stores. It is not the debut in the gaming world of Red Bull but we are close with Dirt Bike Unchained, a fun and enjoyable arcade title based on motocross racing. Compared to the first titles of the Austrian house, we are pleased to see a net improvement in graphics performance, making Dirt Bike Unchained a very pleasing game to the eye, but also to the hand. It is particularly suitable for quick sessions and fast multiplayer races, ready to be abandoned suddenly in case some handsome tourist asks you for information or your umbrella neighbor offers you a cold croissant.
Tetris
Tetris That's true. It is a great classic. It is a game that is far too quoted, downloaded, played, known and abused. But it still remains the old, dear, Tetris. Capable of letting generations of fans, men, women, children, cats and dogs play, no one like him manages to dazzle us
in front of
a screen. Tetris is an ideal title to be played anywhere and in any situation. Witness the great success it had in combination with the first, historic Game Boy, after all. Over the years it has been able to transform and evolve, but without distorting its immortal playability. And so we also recommend it for these holidays, in whatever sauce you find it: Tetris 99 on Nintendo Switch, or the classic on Android and iOS, the important thing is to pile up blocks and destroy lines!
Pinball Deluxe: Reloaded
Pimball Deluxe: Reloaded There is another game that, in addition to historical cards and puzzles like Tetris, manages to entertain practically everyone, especially on vacation and in summer: the legendary bar pinball! Unfortunately endangered in "physical" format, they have fortunately been replaced with some digital versions that act as digital surrogates, often with excellent results. One of these is definitely Pinball Deluxe: Reloaded, a portable chapter of the famous digital pinball saga that has now appeared on any existing videogame platform. If a real pinball machine is missing from your favorite bar, then, you have a valid alternative.
Pureya
Pureya We conclude our roundup of hit and run video games ideal to be made in between. swim in the sea and a lemon granita. On mobile phones and tablets you can download a sort of Wario Ware in smartphone sauce called Pureya, a fun video game containing many small titles to do in a few seconds. If playing bores you, fast switching will keep you glued to the screen for as long as you want. There is no story to follow, no rationale, nothing complicated that needs more attention than a hamster spinning on a wheel. Pureya is one of the ideal titles for summer 2021, at the cost of two ice creams.
Have you noticed any mistakes?