Steam Deck: 5 doubts and 5 things that excite us about the powerful Valve handheld console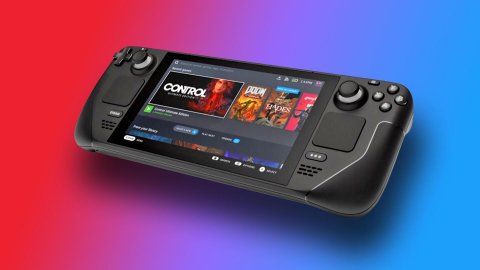 Steam Deck
Pre-orders went great, but there was no lack of criticism of Steam Deck: Valve's machine seems guilty of having somehow picked up the baton of the dead Steam Machines. But Valve's new baby is something profoundly different.
In the case of the first of the Steam Machines, Valve's work was all on the Steam Controller, while on the side of the machine it was limited to studying and establishing specifications for external manufacturers. Also in this case there will probably be versions developed by other PC builders, but to herald the Steam Deck project there is a game machine developed in first person by Valve. A hybrid between PC and portable console that moves in a very different field from Steam Machines, not only as portable, but also as a well-defined and recognizable reference product that combines quadruple computing capacity, at least on paper, compared to those of the Nintendo console.
The merit of so much power goes to the custom hardware developed by AMD in function of a machine that is not designed to be updated in terms of specifications, but which does not close in any way from the point of view of the software . The project, you said, was obviously built around SteamOS and the Proton compatibility software, which should run most
Windows
games without too much trouble, but the custom APU can easily run Windows itself, ensuring compatibility. 360 degrees. And it is also thanks to this that 100,000 pre-orders arrived in two and a half hours to celebrate a device that is undoubtedly interesting from many points of view, although still surrounded by some inevitable uncertainty. We talk about it in our special dedicated to 5 doubts and 5 things that excite us about Steam Deck.
Steam Deck data sheet
Processor: AMD Zen 2 with 4 cores and 8 threads, 2.4-3.5 GHz, 448 GFlop FP32 Integrated graphics chip: RDNA 2 from 8 compute units, 1.0-1.6 GHz, 1.6 TFlop FP32 Memory: 16 GB LPDDR5 Display: 7-inch LCD touchscreen with 1280x800 pixel resolution, 400 nit, 60Hz refresh Resolution: 1280x800 pixel 16:10 display, 1280x720 pixel native resolution 16: 9 Operating system: SteamOS 3.0 with Proton (for Windows game compatibility) Storage : 64 GB eMCC, 256 GB SSD NVMe PCIe 3.0, 512 GB SSD NVMe PCIe 3.0 Storage expandability: Micro-SD with support for SD, SDXC and SDHC Battery: 40 whr with autonomy from 2 to 8 hours Power supply: External PD3.0 USB -C 45W Connectivity: 1x USB-C (DisplayPort alt mode), 3.5mm audio jack. With docking station you add 1x HDMI 2.0, 1x DisplayPort 1.4, 1x USB 3.1, 2x USB 2.0, Ethernet port Wireless connectivity: Dual-band Wi-Fi IEEE 802.11a / b / g / n / ac, Bluetooth 5.0 Controls: D-pad , 4 main keys, 2 analog sticks, 2 32.5 mm trackpads, 4 back keys, 4 back keys, 6-axis IMU gyro Dimensions: 298 mm x 117 mm x 49 mm Weight: 669 grams Recommended price: 419 euros (64 GB eMMC), 549 euro (256 GB SSD NVMe), 679 euro (512 GB SSD NVMe)
Steam Deck: 5 doubts about the portable console that looks to the PC world
Support
The Proton compatibility interface is brilliant and manages in many cases to run Windows games on Linux without dramatic impact on performance. But the process is not completely painless and with different games it creates some problems as is evident from this service that allows you to check which and how the titles in the Steam library are supported by Proton. Most of the games run smoothly and, very importantly, Proton is constantly evolving, but there are also many titles that still have some problems.
Furthermore, nothing
is known about
the possibility of an official support regarding the software of the platforms of the big publishers. Of course, in Linux there is Lutris which allows you to access Epic Games,
Ubisoft
Connect, Origin, Battle.net, Bethesda Launcher and so on, but this is not official support, with all the possible drawbacks of the case.
Temperatures
Speaking of a PC enclosed in a portable console shell, we cannot help but think of the consumption on which temperatures obviously depend, among the main problems of any portable gaming device. Depending on the autonomy, the 7-nanometer APU of the Valve gaming machine is limited to 15 W and is subject, in mobile mode, to a tighter management of the frequencies, but this is not necessarily enough to contain the temperatures. even considering the 6 centimeters longer than the Nintendo Switch.
Pushed to the maximum, the Steam Deck APU alone consumes almost as much as the entire Nintendo Switch, in docked mode and reaches consumptions much higher than those of the Nintendo console used in mobile mode. Furthermore, in the case of the two flagship models of the Valve console, there is to add the consumption of the NVMe SSDs which, among other things, tend to heat up.
Dimensions and weight
The most obvious problem with Steam Deck is the dimensions which undoubtedly depend on the need not to suffocate the hardware, compressed in a monolithic APU but powerful enough to need of room to breathe. Of course, Valve has taken advantage of the abundant space to equip its console with abundant connectivity, to say the least, but we are talking about 29.8 centimeters in length for a console that is 6 centimeters longer than Nintendo Switch, an already quite voluminous portable console. and it is also decidedly more plump, with a peak thickness of 4.9 centimeters against the 2.84 centimeters of the much slimmer Nintendo console.
That said it is also much more powerful and, importantly, it does not seem that uncomfortable to use, at least with your hands resting on your lap or on a surface. Otherwise, in fact, it is necessary
to take on
a weight of 669 grams, perhaps for long gaming sessions, which could make playing in bed or standing up much more uncomfortable. Just to be clear, Nintendo Switch weighs 398 grams, Joy-Con included, and it is certainly not a light weight.
It's not really a PC
Steam Deck uses PC hardware, relies on the PC game library and can be used with any PC operating system. But it uses an AMD custom APU and is not a device meant to be updated, just like the latest generation consoles. It is therefore bound to a pre-established and immutable power in an area where there are thousands of configurations that make the issue of optimization decidedly complex.
Valve itself let slip something about this risk when it talked about the VR headsets that are supported, but the machine is not optimized for virtual reality games. That said, the basic power seems more than enough to still guarantee satisfactions in 720p, or on the console screen in mobile mode, but dedicated support from developers, even with the optimization of valid upscaling such as the new
FidelityFX Super Resolution
, it will definitely be important to the long-term success of a machine that isn't a console and isn't a PC. He only knows what he is not.
The potential of an even cheaper model
The price and the relation to the components are competitive, we have said it several times and we repeat it here. But looking at the immense Steam library, which has decades of adventures and strategic, and also looking at retrogaming, even more digestible for more modest hardware than that of Steam Deck, it comes to think that it would not have been bad to see a less powerful version and cheaper than the Valve console.
We are aware that the decision to produce a hardware core that is the same for all machines was probably necessary to contain costs and, consequently, the price. But a cost effective model of a console, less powerful but still equipped with a potentially adaptable control system, could have made more than one PC gamer happy. Perhaps it could become a reality with any custom models, advocated by Gabe Newell himself, but it is likely that they are bound to the same specifications as Steam Deck.
Steam Deck: 5 things that excite us about the powerful Hybrid Valve
The relationship between quality and price
Despite the controversy, the price is undoubtedly among the strengths of Steam Deck. Gabe Newell even called it painful for Valve, but necessary to give the machine the right push. Perhaps Gaben has exaggerated a bit, but the pre-orders proved him right and we give it to him too, even for the reviled 419 euro version. The 64 GB eMMC storage, it must be said, is limited in terms of speed and storage space, but we are talking about a console capable of reading SD cards which, although limited in terms of speed, guarantee excellent expandability at very affordable prices.
That said, both the 256GB NVMe SSD model and the even faster 512GB NVMe SSD model, which cost 549 and 679 euros respectively, are priced lower than ultraportables with integrated graphics significantly lower. The AMD RDNA 2 GPU equips 8 latest generation compute units that are able to release, together with the 4-core CPU and 8 threads AMD Zen 2, a total power of over 2 TFLOP. Enough to leave behind a PS4 and a GeForce GTX 1050, not to mention the optimizations of what is a next-generation architecture.
Of course, we are not talking about a monster, but four times the power of a Nintendo Switch for a system that should offer decent performance in 1080p, which is very useful when thinking about use with an external screen, guaranteeing with little doubt enough power to play in 720p at 60 fps which corresponds to the resolution and maximum framerate of the Steam Decks. All seasoned with a decidedly rich control system, an immense game library and, in combination with a hub or docking station, PC connectivity.
Console interface
Valve has not limited itself to creating a portable version of Big Picture, placing an interface on top of Steam, but has created a version of its platform designed specifically for the console format of Steam Deck, merging it with the operating system. In this way it has natively integrated all the features developed in recent years on PC and has worked to further reduce the distance in terms of usability compared to consoles, adding the possibility of suspending a game to resume it on the fly at a later time, without having to reload it. In addition, Valve is working on a Stadia-style feature that aims to allow the player to stop a game on Steam Deck to resume it on the fly on PC, aiming to enhance the possibility of exploiting the hardware of your desktop PC to play in streaming, without compromise, on the mobile console.
Nothing revolutionary, mind you, but all at the service of a machine and an ecosystem that could do a lot of good for the gaming PC sector, a segment that despite the increase in sales still struggles to penetrate the homes of those who simply want to turn on their device and dive into their favorite games without paying attention to anything else, which often happens in the case of those who play exclusively
sports
titles. And this is where a Steam interface that has been redesigned to function like a console interface could play a major role in breaking one of the last barriers to entry into the gaming PC world, making its way as an operating system for the entire Valve ecosystem.
Compatibility: from cloud gaming to peripherals
How much Valve has worked hard on SteamOS and Proton to ensure a usable interface and good compatibility with titles for Windows, one of the strengths of Steam Deck is PC versatility despite its portable console suit, custom APU and armored hardware. But Valve has made sure to leave users full freedom from a software point of view, while also allowing them to install other operating systems starting with Windows.
Of course, this factor, as stated by Microsoft regarding the Game Pass, does not guarantee the optimization for Deck of the Microsoft operating system applications, but the Redmond company, by virtue of its new expansionist philosophy, could take a step forward towards Gabe and associates. It must be said that there is no air of conflict around a device that could bring water to everyone's mill, even without the need to install other operating systems that among other things lack optimization for Steam Deck controls.
On the other hand we are talking about a Linux-based operating system that guarantees access to cloud gaming services with support for Chromium browsers such as GeForce Now, Stadia and, precisely, Xbox Cloud. In addition, Linux guarantees support for PC peripherals, docking stations and USB 3.1 hubs included, and can count on Lutris, a platform that allows you to access the stores of the main platforms such as Epic, Ubisoft, Origin and Battle.net.
Controls
Those who have seen the Steam Deck images doubt that the main controls have been positioned too high, but those who have tried it by hand said they were enthusiastic about the convenience of a control system which is undoubtedly rich and interesting. At the base there are obviously the directional cross, the four main keys, the two analog sticks, the haptic motors for vibration, the keys for extra features, the touchscreen essential for writing on the go and the backbones that are capacitive and therefore take into account the pressure carried out. And it is a feature that we find on the two 3.25 cm touchpads, positioned below the analog sticks, which according to promises and impressions are an evolution of those of the Steam Controller and Steam Index, guaranteeing greater precision.
Inside instead there is a 6-axis gyroscope, which can
also be used
to emulate the movement of a mouse in FPS, and behind there are 4 keys, in the style of elite controllers, which like all the others are programmable thanks Steam Input and that are comfortable to reach, thanks to the well-studied handle of the controller, at least according to those who have got their hands on it. The Steam Deck equipment includes two integrated microphones, obviously usable for voice controls, and support for viewers, even if Valve has stated that it has not worked on the optimization in the perspective of virtual reality.
Connectivity
The basic connectivity of the Valve console features a high-speed USB-C port that doubles as an alternative DisplayPort, a 3.5mm audio jack and 802.11 Wi-Fi wireless connections a / b / g / n / ac and Bluetooth 5.0. But this is the tip of the iceberg of a machine that, as we have said, is completely open in terms of compatibility with peripherals and software. It therefore supports USB-C hubs, complete with the possibility of recharging without giving up being able to connect a USB peripheral at the same time, and has a chipset that, combined with a docking station, guarantees almost complete connectivity.
The extent of connectivity was revealed by Valve's docking station scheme which is still in development, and may not be ready for the December launch of Steam Deck, but it shouldn't arrive too late. to the console, adding to the basic connectivity also an HDMI 2.0, a DisplayPort 1.4, a USB 3.1, two USB 2.0 and even an Ethernet port, very important in the context of competitive gaming to have minimum latencies.
In any case, even if we expect some advantages from the proprietary docking station, there has been talk of full compatibility with any docking station for a device that, thanks to the extra connectivity, can become a multimedia center, capable of reaching the resolution 8K @ 60Hz.
Have you noticed any errors?