Genshin Impact: anastasia.komori's Lisa cosplay is simple but lacks nothing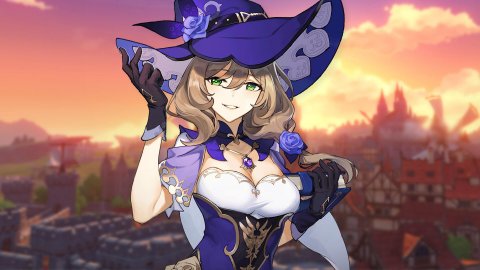 Genshin Impact
Genshin Impact is approaching update 2.0 and therefore promises many game news, including for sure new characters. The "older" characters, however, will always remain in the hearts of fans. A great example is Lisa, a favorite of the cosplay world. Now, for example, anastasia.komori offers us her own cosplay of Lisa.
The costume chosen by anastasia.komori for Lisa's cosplay is actually very simple, especially compared to versions that we have had the opportunity to admire in the past, but that doesn't make it low quality or lacking in detail. The big hat, neck pendant and costume embroideries are all true to the character of Genshin Impact.
If you are a big fan of Genshin Impact, then you should definitely admire Lisa's cosplay from aoimomoko - she is identical in every detail. Lisa's cosplay from mizuvzcos is also perfect. How not to mention, then, the cosplay of Lisa from Himeahri: it is of high quality. Finally, it is unfair not to mention Lisa's cosplay from Ladalyumos: it is of great impact.
Changing completely gender, you have to see the Zelda cosplay in Gerudo version of japp_leack: it is very summery. Alco.loli's
2B cosplay is
also seductive. Finally, here's the Ellie cosplay signed by likeassassin: it looks like it's out of the game.
Tell us, what do you think of Lisa's cosplay made by anastasia.komori? Has Genshin Impact's character been faithfully recreated, or do you think you've seen higher quality versions?
Have you noticed any errors?
---
Genshin Impact 2.0 Livestream – Start Time, UTC-4 to ET, How to Watch and Leaks
Following an initial leak, miHoYo has officially revealed its plans for the Genshin Impact Version 2.0 livestream, which will fully introduce Inazuma, reveal the Ayaka, Yoimiya banners release dates, new Archon Quests, and Events.
Inazuma is the third region of Teyvat – the world of Genshin Impact – that the Traveler will go to in their quest to find the Unknown God. miHoYo has been teasing Inazuma ever since the open-world JRPG's worldwide release on September 28, 2020. Most notably in an interview with DualShockers.
INAZUMA – Nearly all of the Ayaka, Shogun lore so far
Collected Miscellany – "Kaedehara Kazuha: Free Spirit" | Genshin Impact
BridTV
3016
Collected Miscellany – "Kaedehara Kazuha: Free Spirit" | Genshin Impact
https://i.ytimg.com/vi/ytUO6XLh2pU/hqdefault.jpg
816203
816203
center
26546
Genshin Impact 2.0 – Where to watch the live stream, start time
The July 9, 2.0 livestream will be held first on the official Genshin Impact Twitch, at 8 AM EST / 5 AM PST. Here's a table with other time zones. Click here for a countdown to the stream's start.
Four hours later, the stream will also be broadcast on the Genshin Impact YouTube channel. At 12 AM EST.
Liu Wei, co-founder of miHoYo, will be hosting the Chinese version of the 2.0 stream. In the past, he has hosted all of the videos with huge announcements, most notably the one where the housing, skins, and farming systems were first teased.
Baal reveal, Yae and Sara – Predictions
First off, the teaser visual for the livestream revealed the Statue of the Seven design for the Electro Archon, also known as Baal, the God of Eternity, and the Raiden Shogun. She's the leader of Inazuma. This is the first time we officially see her Statue. We'll see it plenty of times as we explore Inazuma in Genshin Impact 2.0.
Keep in mind that similarly to how the Statues of the Seven in Mondstadt looks different than Venti, and how the Statues in Liyue looks different from John Lee, Shogun also looks different in-game.
Following the official reveal of the Electro Archon, we will also get introduction trailers for Kamisato Ayaka, Yoimiya, Sayu. We'll also have a special gameplay trailer introducing the Traveler using their Electro Elemental Skill and Burst. That's a given seeing how past streams went.
So here are my other predictions for the Genshin Impact 2.0 livestream: Perhaps future Inazuma playable characters will make appearances as well. Especially those who similarly to Shogun will initially appear as NPCs, such as Kujo Sara or Gorou. Guuji Yae should be coming back too after her teaser appearance in the 1.5 stream.
Lastly, keep in mind the stream will contain spoilers if you aren't up to date yet and haven't cleared all the Archon Quests currently available.
Genshin Impact 2.0 Leaks so Far
Warning: There could be spoilers below, so don't read on if you don't want to see them!
As always, plenty of content has leaked from Genshin 2.0 testing. This includes the full Inazuma island map, something which has been heavily anticipated for quite a while.
Alongside this, we've got a small look at some of the new characters who will be appearing as part of this update and we've got our first information regarding cross-saves.
Finally, there's also been information regarding Genshin 2.1 testing!
As always, we'll keep you updated through the stream with a live report, so stay tuned on DualShockers. You can also catch me on Twitter @A_iyane07.
Have something to tell us about this article?
Living near Paris, Iyane is the head of Japanese content at DualShockers. He plays Genshin Impact for the story. You can reach him on Twitter at @A_iyane07.