AKIBA'S TRIP: Hellbound & Debriefed, the tried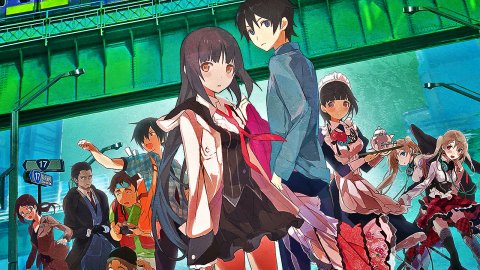 AKIBA'S TRIP
We tried AKIBA'S TRIP: Hellbound & Debriefed on
PlayStation
4, a title whose arrival on current generation consoles is actually scheduled for next July 20, 2021. Of course, thanks to the publisher, who seems to care enough for what can be considered at all effects a celebratory operation. In fact AKIBA'S TRIP: Hellbound & Debriefed is not well known in the Western world, thanks to the fact that the original chapter never arrived there: AKIBA'S TRIP,
for those who
remember it, was published two generations ago, on PSP, on May 19, 2011 .
After ten years, which in the videogame world are worth as much as fifty years of an individual's life, the developers of Acquire have seen fit to create a beautiful remastered, which " beautiful "it is up to a certain point, but at least it will have the privilege of being distributed for the first time all over the world, including Italy.
Let's move on to our considerations after the first hours of testing: to be exact, we had to stop, at the request of the publisher, at the end of chapter 2.
The plot: life in Akihabara, Tokyo
AKIBA'S TRIP: Hellbound & Debriefed and its bizarre characters The whole adventure of AKIBA'S TRIP: Hellbound & Debriefed is set in Akihabara, the famous district of Tokyo. If you have never heard of it, know that it is a real place of pilgrimage for women and children, old and young, but all strictly lovers of manga, anime,
video games and
electronics in general. The protagonists of the game and, for the record, you will be the one to outline their name, features and clothing during the first minutes of the adventure. Soon after for him (or her) a sort of supernatural ordeal will begin, at the same time grotesque and amusing.
In fact we have omitted a fundamental detail for the plot of AKIBA'S TRIP: Hellbound & Debriefed: the Tokyo area in question is literally invaded by supernatural beings, a sort of vampire able to easily eliminate other human beings, especially (it goes without saying) at night. It is therefore easy to understand why the disappearances and massacres in the streets, in the last period, have increased. Even the protagonist himself finds himself transformed into one of them in an attempt to defend his best friend.
Vampirized by the beautiful Rui, who has decided not to let him die, our alter ego joins a special resistance group, which has discovered a way as imaginative as it is effective to fight supernatural enemies on equal terms . Namely: undress them and expose them to daylight. The first of the two things must be understood in an absolutely literal way, and represents that dose of typically Japanese eroticism that will make sense at home, while in the West it leaves a lot of the time it finds: luckily, however, the production immediately renounces to take itself seriously.
Gameplay that (seems) a little aged
AKIBA'S TRIP: Hellbound & Debriefed sometimes gets confused with the visual novel Of the plot of AKIBA'S TRIP: Hellbound & Debriefed we prefer not to tell you more:
there will be
time during the review to analyze protagonists, antagonists, extras and narrative rhythms. On the gameplay, on the other hand, a few words must be spent, also to try to understand how much ideas proposed, in a certain way, on a specific platform ten years ago still make sense today. It is clear that if we think that this is a 2011 PSP game, almost everything can be excused, even obvious shortcomings, even smudges, even the obvious technical limitations. But bearing in mind that we have a 2021 remastered in our hands, one question is legitimate: is that all there is to it?
The fact is that the gameplay of AKIBA'S TRIP: Hellbound & Debriefed is very aged. It's okay not to take ourselves seriously, but as a beat 'em up we're really struggling with a stale offer. At the time, perhaps, the freedom of the player was very interesting: in fact we can engage in clashes in the Tokyo neighborhoods a little with whoever we want, it is enough to run and end up on a given passer-by, throw a few slaps, not counting the official "challenges. "with the bosses, necessary to continue the plot. All this, however, appears rigid, imprecise, more entrusted to chance than to the player's skills, and too often confusing. It is easy, for example, that other random passers-by join the slapping battle, all of them hitting together in the same tiny playing area; that interpenetration and errors begin in the execution of some moves; that something is not responding as it should.
AKIBA'S TRIP: Hellbound & Debriefed allows you to hit random passers-by, not just vampires The main combat mechanic of the title involves undressing opponents, literally: you have to hit them with a certain command repeatedly (for example X) and then always hold down X when the enemy flashes: at that point a special move deprives the enemy of a part of his clothing. The undressing aims to leave the unwary adversary in his underwear (and bra if desired): at this point, if he is a normal human being himself, he runs away. If he's a vampire, well, you know what happens to these creatures in the sunlight, they dissolve, they die in excruciating torment, charred.
At the beginning the mechanics are fun, they make a smile; in the long run we honestly have no idea how much it can become out of place and repetitive, we at least trust that it will be a little deepened, with varied moves and made a little more strategic. However, we will only be able to talk about this in the review. As soon we will talk even more in detail about the management of the game map and the equipment of the protagonist, to finally comment on the technical sector of the remastered.
Our test of AKIBA'S TRIP: Hellbound & Debriefed did not leave us particularly enthusiastic: the title seems to have aged beyond all legitimate expectations, thanks to a remastered that does not seem to have insisted too much on the positive aspects of production. To date, after a few hours of play, it seems that this operation has revived a video game perhaps even important for the PSP era, at least in Japan, but without enhancing it, without really believing it. There are many nice ideas, both narrative and in gameplay: it remains to understand how much space they deserve considering the whole adventure, which should also last quite a few hours. We will return to immerse ourselves in the Akihabara area, we will face the vampires in the light of day, if necessary we will also do it at night; finally we will come back to you with a precise vote. Meanwhile, just to be safe, don't get too excited.
CERTAINTY
The mechanics of undressing are curious and original The charm of Akihabara is not discussed The Western public finally receives the first chapter of the series DOUBTS Technically seems to be at least a generation behind Clichés, clichés and stereotypes aplenty It seems a bit repetitive ... Have you noticed any mistakes?