Top 10 Android PC Games to Play with BlueStacks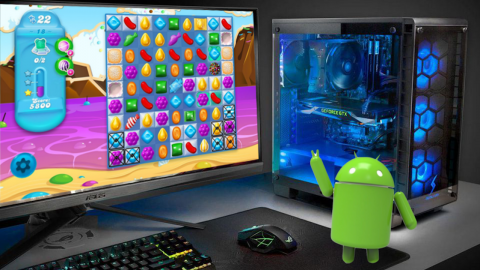 When it comes to the most important platforms on the market, players often rekindle the ancient debate of who "wins" between PC and console; in reality, watching everyone from above is the mobile world, a real gaming platform that can count on millions and millions of players every day. It is no coincidence that more and more publishers and developers are focusing on it, alongside mobile versions of their flagship games (see for example
Call of Duty
Mobile). On mobile there are also exclusive games of the highest quality that many fans would like to play.
However, if you don't like small screens and want to continue having fun using only your PC, then you can take advantage of BlueStacks, now a real gaming platform with over hundreds of millions of users that allows you to play Android games on PC.
BlueStacks Instead of relying on cumbersome interfaces or hermetic menus for initiates, BlueStacks proposes itself as a sort of gaming platform very similar to the Steam and GOG clients, condensing into one window with various information and easy-to-use functions. This essentially allows you to play Android games on your PC, via your Google Play account, and make your app library work on
Windows
or MacOS by automatically making them compatible with your mouse and keyboard, as well as adapting them to a larger screen.
This ease of use is combined with extensive compatibility resulting in optimal performance for a large number of titles and a particular user loyalty initiative that allows you to win prizes and get rewards for using it. By connecting your social media channels to BlueStacks it is in fact possible to activate monetization, which allows you to acquire "Pika Points" simply by using the app or by completing the proposed quests: the points accumulated then allow you to win prizes such as peripherals, technological devices, hardware and more.
Here are the 10 best Android games on PC to play with BlueStacks that even those who disdain mobile should absolutely not ignore.
PUBG Mobile
PUBG Mobile Let's start with one of the most popular titles, even if its introduction in this selection may seem less obvious than expected: PlayerUnknown's Battlegrounds has in fact been available for some time and well rooted on PC, so it needs very few presentations, yet its mobile version appears to be one of the most played on the Windows platform.
The reason is probably to be found in the fact that PUBG Mobile is free (as opposed to the original version) and, as a shooter, is more comfortable with mouse and keyboard than with mobile controls. For the rest, we know the game and the reasons for its success are well known; is certainly one of the Android games on PC available.
Lineage 2: Revolution
Lineage 2: Revolution Those looking for an experience similar to the standards of classic PC titles but necessarily mediated by simplicity introduced by the mobile adaptation should take a look at Lineage 2: Revolution. The Netmarble Games game is doing bad things in the East but it is also well established in our part, presenting itself perhaps as the most widespread and supported MMORPG currently on mobile devices.
As often happens in games of this type it often results in a wild grinding and its semi-automated system only adds to the assembly-line feel of the EXP points, but its sheer size is impressive, so as the depth of the management of the characters and the combat system, all topped by a technical realization that has little to envy to the counterparts on PC and consoles. It may not be the game with the strongest personality to be found, but it remains one of the best Android games on PC.
Lords Mobile
Lords Mobile One of the genres it has the strategic one in its various meanings, in particular the real-time one, has taken root with greater vigor in the mobile field. Portable devices have even pushed a traditionalist landscape like this towards new evolutions and interpretations, with the birth of tower defense and intermediate meanings such as MMORTS, a sub-genre to which Lords Mobile belongs. The IGG game was awarded "Best Competitive Game" in 2016 by the Google Play Awards but it is still a very popular title, with a constant user base making it one of the most played Android games on PC.
Its composite formula brings together RPG, RTS and management elements, with the need to build structures and manage resources while also thinking about defense and expansion within the large maps through the battle phases. The strengths, beyond the excellent realization, also reside in the dynamism of the action (monsters and various events join the classic skirmishes) and the variety of modes present between PvE and PvP.
Monument Valley
Monument Valley 2 Adventures often tend to be at the intersection between PC and mobile devices, because the point and click system naturally combines the classic mouse with the touch screen interface. However, there are some experiences born on mobile that remain linked to this area and an emulator can be an excellent way to enjoy Android games on PC. Among these we point out the Monument Valley series: the two chapters developed by Ustwo have managed to establish themselves among large audiences thanks to their dreamlike and relaxed atmospheres which, however, hide challenging puzzles.
The aesthetic that seems to be inspired by Escher and the landscapes of the metaphysicians is a distinctive element for Monument Valley, supported by a high-profile sound design capable of amplifying the sense of estrangement towards the melancholy and fascinating world in which Ida seems lost, forced to solve puzzles to find her way between optical illusions and impossible objects.
Rise of Kingdom: Lost Crusade
Rise of Kingdom: Lost Crusade With over 60 million users and over a billion in earnings, Rise of Kingdom: Lost Crusade ranks among the best Android games on PC for the sheer numbers it can record. We're talking about a real-time, multiplayer 4x strategy set in a world of historical inspiration. There are 11 civilizations to choose from that also allow you to opt for different styles of play, from military conquest to economic domination. There is a realistic night-day cycle, real-time battles within a large map initially hidden by the classic "fog of war". There are also some historical figures such as Giuglio Cesare, Sun Tzu and Giovanna d'Arco. It is a solid and above all free to play 4x with a large community, perfect for playing in both short and long sessions.
AFK Arena
AFK Arena AFK Arena is one of the best choices for those looking for Android games on PC of the RPG genre. It is in fact an RPG with an automatic combat system, with the player only having to decide if / when to use the characters' special ability. What we will have to pay attention to will be the choice of warriors to send into battle, not so much on how to fight then. The characters are based on classes and there are obviously dozens of them.
Each battle allows you to get rewards to upgrade and expand your team, with a classic gatcha style (like Genshin Impact, if you want an easy and recent example). It features a campaign, events and weather, and a PvP mode. Characters continue to gain experience and resources even while you're not playing. It is essentially a work that requires a limited amount of attention and can be played by leaving it in the background, while dealing with other things with your PC.
The Seven Deadly Sins: Grand Cross
The Seven Deadly Sins: Grand Cross If you are looking for Android games on PC and are big fans of Japanese animation, then The Seven Deadly Sins Grand Cross is a great choice. We are talking about a turn-based role-playing game based on cards: starting from a deck you can extract three cards for each character, which allow you to perform attacks, defensive poses and various kinds of power-ups.
There is also a card combo system, which makes the approach more reasoned without ever becoming complex or overly strategic. While there is the option to pay to advance faster, the classic gatcha system doesn't take too long to get the most powerful characters. There is no shortage of secondary activities with which to play for hours and hours, PvP and a very generous narrative component for a mobile free to play; moreover, the graphics look good on larger screens.
Game Dev Story
Game Dev Story Kairosoft has become a sort of cult label on smartphones, basically applying more or less the same concept to a plethora of different settings and contexts. The Japanese team has decided to stage a multitude of environments and situations in management declination, and once the game mechanism has been refined, it has managed to make them all damn fun. In this case we refer you to one of the first successes of the lucky "Story" empire with the famous Game Dev Story, which puts us in command of a videogame development team launched (hopefully) towards international success.
Beyond the excellent - albeit somewhat simplistic - management system of the company and the irresistible pixelated aesthetic that is typical of Kairosoft, another element that makes Game Dev Story a true myth for fans is the constant use of quotations, distortions and references to the historical Japanese videogame panorama. If you are looking for a truly mobile experience, this is a great Android game to play on your PC.
Call of Duty Mobile
Call of Duty Mobile In a list of the best Android games on PC can't miss one of the greatest mobile hits of recent years: Call of Duty Mobile. Activision's game has nothing to envy to its "older" brothers, namely
Call of Duty Warzone
and the classic annual premium chapter (currently,
Black Ops Cold War
).
The game offers multiple modes, such as classic multiplayer, battle royale and zombies. Inside the game there is no shortage of classic maps much loved by fans, as well as an infinity of weapons. Being a free to play game, it has a Season Battle Pass that includes various rewards to be unlocked by playing: of course, there are various free levels. If you want a complete shooter and Warzone is not enough for you, playing Call of Duty Mobile is a great choice, especially on PC thanks to the possibility of using a mouse and keyboard.
The World Ends with You: Solo Remix
The World Ends with You: Solo Remix The World Ends with You was born on DS, then on mobile and finally on
Nintendo
Switch. This latest version, however, includes a new game system. If you want to experience the original chapter without having to retrieve a Nintendo DS, then Bluestack is the best choice. The World Ends with You: Solo Remix is ​​already in itself a very special game, built like a JRPG with a narrative very close to manga and a strange combat system focused on the use of the touch screen, therefore already very close to fruition on mobile platforms.
In addition to its decisive freshness in terms of narration, character role management and combat system, The World Ends with You is also a tribute to the popular youth culture of Japan, clearly symbolized by the choice of the famous neighborhood of Shibuya, Tokyo, as the main setting. In a nutshell, among the Android games on PC it is one of those not to be missed.
Have you noticed any errors?