The future of Xbox, between Game Pass and Cloud Gaming, explained by Microsoft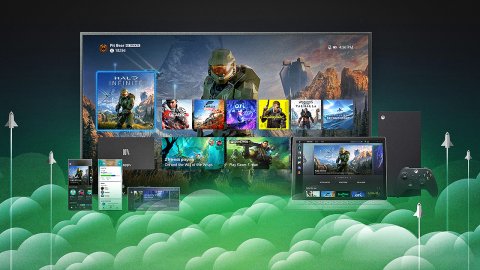 The future of Xbox
"Making sure that everyone can experience the sense of joy and community of video games." Until a few years ago we would have heard such a statement from a
Nintendo
executive, certainly not from a big man in Seattle at the top of
Microsoft
. In a month of inclusiveness and diversity, Phil Spencer wears a t-shirt with a rainbow version of the Xbox logo, and does so when there are a few days left before the first Xbox & Bethesda Showcase of E3 2021. The joint appointment represents one of the most anticipated moments of the digital event and an opportunity for Microsoft's development studios to present their upcoming games in the coming months and years.
First though, Xbox boss Phil Spencer invited the press to a presentation of over an hour entitled What's Next, with the aim of explaining the future of Xbox, between Game Pass and Cloud Gaming, by speaking what is the mission of Xbox today: "To empower anyone to play the games they want, with the people they want and wherever they are". To explain how the American company intends to achieve this goal, Spencer interviewed the CEO of Microsoft, Satya Nadella, and other key members in the gaming branch. The result is an excursus that illustrates the four pillars on which the entire strategy of the company is based, aimed at democratizing the use of video games.
Xbox Game Pass
A good portion of the presentation was dedicated to Xbox Game Pass, and more specifically to how Microsoft's subscription service has completely upset the perception that users have of the Xbox library and how, through the addition of new options, it has changed the way which we approach to the consumption of games.
"For decades, the only way to play video games was to buy them individually," says Spencer. "This was an investment that for many people was a limit to their ability to play. [...] Today the entire entertainment industry is moving from the boxed product to a relationship based on services and constant commitment through new content. But what distinguishes us from services like Netflix is ​​the fact that we offer the user both options: a subscription package or the entire purchase from the store. And this is leading to excellent results. "
Through the words of the corporate vice president Sarah Bond, Microsoft has reiterated how a service like Game Pass is not unfavorable for developers and harmful for the sector. An example from this point of view would be Outriders: despite being available since launch in the
Game Pass catalog
, Square Enix's recent multiplayer game was also the best-selling digital game for Xbox and one of the ten best-selling digital games on Xbox in the month. of April.
A similar case to MLB: The Show 21, which in addition to being one of the most played
sports
games ever on Xbox thanks to Game Pass, was also the best-selling game on the Microsoft console in the month of April. In short, for Microsoft, Game Pass not only does not devalue the value of the games, but it does not even discourage the purchase, leading in some cases to increase sales even on external platforms. "When a game enters Game Pass", explains Spencer, "it also grows on Steam and the Epic Games Store, and this thanks to
the power of
a community that increases its popularity. If I see a friend of mine playing a good game, I will want to buy it and join him; more and more publishers recognize that this is an opportunity. "
Game Pass therefore seen not only as a means of distribution, but also as a "discovery platform" for new experiences. Game Pass subscribers tend to experiment and try out games they would otherwise never have purchased. "We have seen a 30% increase in the genres played and a 40% more in the amount of games [...] while subscribers always spend 50% more than non-subscribers"
Xbox Cloud Gaming
Another fundamental cog in the new Xbox machine is represented by the cloud infrastructure that with Azure will allow Microsoft to bring its games and services to any device that has a screen and an internet connection. After a beta test period, the ability to play via the cloud using a simple browser like Edge, Chrome and Safari will be officially open to all Game Pass Ultimate subscribers in the coming weeks, with the idea of ​​expanding the service by the end of the game. year in other markets such as Australia, Brazil, Mexico and Japan. Microsoft is also officially partnering with TV manufacturers to integrate the Xbox experience directly into modern TVs, so there's no need for dedicated hardware other than a simple controller. The idea of ​​an Xbox app within Smart TVs had already been anticipated at the end of last year, and it is credible that Samsung will be among the first manufacturers to support the platform, since the Korean company just last March became a partner.
Xbox Series X
official. Microsoft is also working on streaming devices for cloud gaming to connect to any TV and monitor, so as to allow you to play via the cloud even on "non-Smart" screens.
Here Spencer gives himself a jab at the competition: "Certain companies have erected barriers around the players, locking them inside a specific hardware", while Microsoft's interest is clearly to detach itself from the need to own or buy a console. This is not to say, however, that there are no dedicated hardware in the future of Xbox. "The cloud is central to the future of gaming and is a key element in our roadmap," said Liz Hamren, corporate vice president. "But don't think that we are slowing down our production of 'core' consoles. In fact, we are proceeding even faster. We are already actively working on new hardware and platforms, some of which will not see the light for years". Finally, Microsoft has officially confirmed that it has almost finished updating its datacenters around the world, replacing the previous hardware with that of the Xbox Series X. This means a significant improvement in latency, faster loading and improved framerate while you play in the cloud.
Accessibility and inclusiveness
There is no company that has had a more positive impact in the field of accessibility than Microsoft. The presentation talked about how "inclusive design" is a mantra for the company, taking inspiration from the needs of a disabled public that is too often ignored by the industry. This has led to projects such as the acclaimed Adaptive Controller, but also to a host of advanced speech to text and text to speech features to come to the aid of hearing impaired users.
Microsoft has also drawn up precise Accessibility Guidelines which it shares with developers to make sure their games cater for a disabled audience. The inclusiveness of different communities moves along a parallel track, on the one hand by supporting games with a certain sensitivity towards LGBTQ characters or belonging to particular minorities, on the other by making sure to limit toxic attitudes through technology. Human moderation is not enough, and we constantly continue to work on filters and tools that allow us to block negative experiences online before they even happen. After all, the company's recent motto is "If everybody plays, we all win."
New acquisitions
Xbox CFO Tim Stuart says that for the past eight years the division has gone through a profound transformation. In the first period, we went back to where we started: "We had moved away from our goal of offering the best gaming experience. We had to rethink our business, take back the reins and repair our relationship with our most important users. Then we have spent the next 3 or 4 years developing our strategy, figuring out what to do with Xbox in the future, and making major investments in content, experience and hardware. The last two years have been running, and finding out if we've seen it along. mantra of our bet was "content, content, content".
Everyone knows today that a large part of these investments were destined to the acquisition of new development teams that would expand the
Xbox Game Studios
, with the ultimate aim of making Xbox Game Pass more attractive, and consequently contribute to increasing the spread of the platform even among those who have never had a console. Today, with over 23 studios working on Xbox games, Microsoft has set itself the goal of releasing at least one new first party game on Game Pass every quarter, spanning a huge variety of genres: from racing games like Forza to role-playing games like Fable, passing through adventure games, platformers like Psychonauts 2 and, of course, shooters like Halo.
The idea of ​​a future where anyone can play their favorite games regardless of their hardware can seem utopia within hours since the beginning of E3 2021, an event that historically is linked to keywords such as console war, exclusive games, winners and losers. "Achieving our mission will not be easy and there is a long way ahead," says Spencer, admitting that it won't be easy to unhinge certain conventions, but he is convinced that only Microsoft has the experience, resources, technology and portfolio of video games needed to do this.
Have you noticed any errors?