Resident Evil Village is the game of the month for May 2021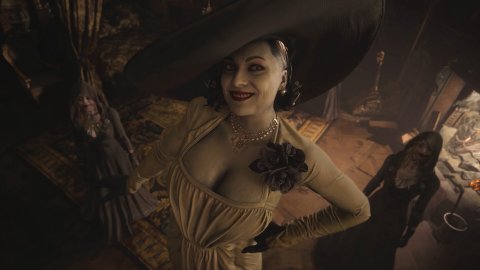 We have reached the end of a rather intense May 2021 as regards videogame releases and it is time to elect the game of the month just past, which apparently did not lead to indecision: both for the editorial staff and for the readers, the game of the month is undoubtedly Resident Evil Village, which decisively surpasses all competitors by imposing itself in both polls. On the other hand, although it may not have been received by everyone in the same positive way with which it was received by most of the critics, there is no doubt that if there is a game capable of capturing the attention and interest of large audiences on different platforms, that is definitely the Capcom survival horror, which in this case also makes the generational leap by presenting itself on
PS5
and Xbox Series X | S, despite being available on all platforms.
Resident Evil Village presents a distinct change of atmosphere that we liked From the first rumors about a gothic-inspired Resident Evil inspired by a completely different type of horror from what we had seen so far, the game then proved surprisingly close to those first rumors that seemed unlikely , taking you by surprise with its change of style. Perhaps even this rediscovered originality helped him to emerge in a month that nevertheless presented some really great releases, such as the collection of historical BioWare RPGs in Mass Effect: Legendary Edition, the arrival of Days Gone in PC version and 'release of the new Biomutant, which have all collected good results, but remaining far from what has been done by Resident Evil Village. This also shows how Capcom is able to keep its historical series on the crest of the wave, while continuing to experiment in a balance that is not easy to maintain.
The choice of the editorial staff
A very clear result is the one that emerged from the vote within the editorial staff,
with Resident Evil Village
which emerged decisively in first place as the game of the month
of May 2021
. In case our review of Resident Evil Village wasn't clear enough to report our extremely positive impressions, this is further confirmation of how much Capcom's survival horror is enjoyed around here, despite the competition not even being very easy to manage.
This is demonstrated by the second position in particular, where Mass Effect: Legendary Edition was placed, another title that can count on a solid following of fans within the editorial staff. Obviously, operations of this type pay the price of being essentially simple re-editions, albeit with a commendable remastering job, therefore also for this reason the collection of the BioWare trilogy had to give up the top of the rankings.
Mass Effect Legendary Edition
brings back a historical RPG trilogy In third position, at a rather close range, there is Biomutant, this is our review, to close the podium. The new open world action of Experiment 101 is a game that has many flaws, as emerged quite clearly also from the general reception by the critics, but it also has great merits, staging a fascinating and original world, trying to dare even beyond the actual possibilities of a small team that has managed to set up a game capable of rivaling mega-productions of a very different dimension.
Below the podium, the votes were dispersed in various streams on slightly more specific and varied preferences: among the games that stood out most from the bottom we mention the PC version of Days Gone, which is the game closest to the leading trio even if still somewhat distant, Subnautica: Below Zero and the interesting Famicom Detective Club for
Nintendo
Switch.
The choice of readers
There is a lot little to discuss also with regard to the poll proposed to readers: also in this case the game of the month of May 2021 is clearly Resident Evil Village, which reaches almost 50% of the total votes, with an advantage over the others that is rarely seen. There was no lack of criticism of the Capcom title from users in particular, but it is clear that the new chapter of the series has nevertheless represented an event of considerable importance, probably representing one of the greatest games of 2021, moreover dedicated to almost all platforms and therefore with a very large catchment area. As a demonstration of this, it has collected practically almost more votes than all the other titles present, remaining just under 50% of the total amount. To find the other occupants of the podium, therefore, there is a clear reduction in terms of percentage of preference.
Biomutant stages a strange and fascinating world. In second place, with 12% of the votes collected, there is is Mass Effect: Legendary Edition, the collection that includes the entire trilogy of BioWare's sci-fi RPGs in a remastered version and also containing all the DLCs and expansions originally released. It is one of the major franchises to come out of the Xbox 360 and
PS3
generation and still proves to be a series of great depth, deriving from a BioWare still in excellent shape and able to build a solid and interesting universe in which to set RPGs well built.
The third place is Biomutant, therefore the first three preferences of the readers perfectly reflect those demonstrated by the editorial staff: in this case we are dealing with a game characterized by many shadows, but the lights that can be seen there may be enough to overlook everything else, as these results show. Below the podium, also in this case, we find Days Gone on PC and as a different note an interesting preference given to Shin Megami Tensei III Nocturne HD Remaster.
Have you noticed any errors?