NBA 2K21 prepares for the NBA Finals with MyTEAM Season 8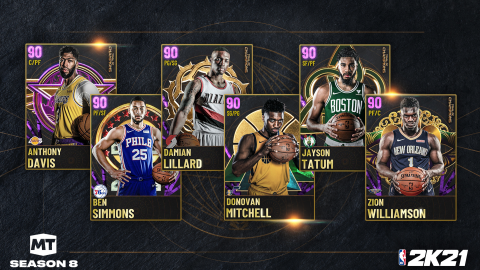 NBA 2K21 prepares for the NBA Finals with MyTEAM season 8 with 6 champions such as Ben Simmons, Anthony Davis, Damian Lillard, Donovan Mitchell, Jayson Tatum and Zion Williamson who will compete on the virtual parquet of 2K Sports.
For some of them the season finale and the first round of the playoffs was more bitter than expected, while others still have a chance to win the ring. Surely everyone still has the chance to establish themselves in the NBA 2K21 Game of Rings.
Let's find out all the details directly from 2K:
NBA 2K21 season 8 of MyTEAM
The NBA 2K21 Game of Rings. At level 1 of this season, each player will add these 6 beautiful cards featuring these challengers to their collection. This battle consists of decimating your opponents by filling in the stat sheet. Compete in Triple Threat with your favorite player until June 14th. Among these 6 challengers, the players with the highest scores during this period will earn the entire community a guaranteed player locker code, which will include Galaxy Opals and a Dark Matter player.
As always, the level reward 1 is just the starting point, as this Trial of Champions will again have you complete the Agendas to earn XP on your way to level 40. Top of the XP track this season is the invincible Dark Matter Luka Doncic ! The young All-Star made a great impression in the postseason against the Clippers and can now make a great impression against your opponents in Unlimited after completing the Trial of Champions!
With the Season 8 Signature Challenge, you'll recreate a pivotal moment in Kevin Durant's race to his first NBA Championship! KD chose his three-point shot against the Cavaliers in the 2017 NBA Finals to recreate in MyTEAM! If you need a Durant card, use the locker code KD-MyTEAM-SIG-CHALLENGE for a Free Agent version eligible for this challenge. Match his 31 points and 4 triples to earn a Hall of Fame badge and a diamond shoe to enhance your lineup!
Now, let's do the annual roundup of all the Dark Matter reward players you can earn in this season! Starting with Triple Threat, Celtics great man Robert Parish awaits you at the new maximum threshold of 1,750 wins, with Tom Van Arsdale in the vault. sportsgaming.win twin, Dick Van Arsdale, is available after level 3 wins in Triple Threat Online, forming a dynamic All-Star duo! Go 12-0 in the Galaxy Opal unlimited level for Drazen Petrovic, while Horace Grant can be found in Ascension, and trade players for Willis Reed, or find "The Iceman" George Gervin (limited to 1,000 ransoms) in the Reward Market!
We have another Invincible Reward Player to announce, Moses Malone Invincible for earning 6 Rings in Limited! Also, Luka is not the only Dark Matter available from Agendas this season, at level 33, you can add Bob McAdoo to your collection ... Now there is still a lot to reveal regarding this Season's Agendas and their rewards. This six-week Season is poised to deliver more rewards, premium cards, events, and more than any previous Season!
Starting with Hawk's young superstar, Trae Young. Trae made a great impression against the Knicks, and you can add him to your collection by playing MyTEAM every day for the first week of the season! And we will follow that with a new Dark Matter as a login reward for 7 days throughout the season.
So we're starting with Game of Rings, dropping Dark Matter rewards in all modes and as a reward for the login ... with a six week season running through July, what's next?
We need to
keep some details close to the vest, but we have a few more surprises for the rest of this season that we can't wait to introduce you to, including the entire IDOLS Series III collection!
Let's just say we tried some new things that MyTEAM players enjoyed in Full Throttle and will be back in Trial of Champions. For now, compete in the Game of Rings, earn Luka Doncic level 40 (and trust me, you'll want to get it soon this season ... stay tuned for more on that), and get ready to enter the Trial of Champions this season. 8 by MyTEAM!
Have you noticed any errors?