Far Cry 3 Blood Dragon: Retrospective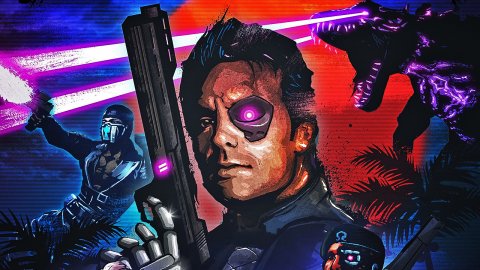 Far Cry 3 Blood Dragon
There has been a lot of water under the bridge since April 1, 2013. It seems like a century ago, but that was exactly the date when that bizarre stand-alone expansion of Far Cry 3 dubbed Blood Dragon was announced. The date suggested a sure April fool. Many watched the trailer released by
Ubisoft
with fun mixed with curiosity, but without giving it the right weight. Because, you know, the base game was set in the jungle, not some 80s sci-fi dystopian future. In short, there were too many elements that did not add up.
The truth slowly came out over the next few days thanks to many elements that indicated that Far Cry 3: Blood Dragon was actually a living project, not a simple prank of some bored programmer.
There were three main clues. The first was given by some screenshots leaked on the net that portrayed the actual gameplay. Then they even went so far as to hack the servers of uPlay (Ubisoft's online service) and publish a small game excerpt. Finally, the group behind the soundtrack inadvertently (or maybe not?) Uploaded the soundtrack to a popular music cloud site. In short, Blood Dragon was a real project and now many people could not wait to get their hands on it.
Let's find out why in this Far Cry 3: Blood Dragon retrospective.
Laser and fluorescent colors
We don't know exactly how Far Cry 3: Blood Dragon was born, but in 2021 we are sure of one thing: Ubisoft had seen us for a long time, anticipating by a few years the return in grand style of the 80s all laser and color shot. Shortly thereafter, in fact, the whole world of world entertainment was literally colored in fuchsia and fluorescent green.
Music has rediscovered certain tones, rhythms and sounds typical of those years: just think that Dangerous by David Guetta was published, precisely, a year later. In 2013, the age group ranging from 30 to 40 was the perfect target for this kind of nostalgia operations. Young
men and women
passionate about
video games and
music, generally with a job and ready to spend money to try even for a moment to be young again: Ubisoft had already won us over after a few seconds of presentation.
There are at least three or four key elements that make Far Cry 3: Blood Dragon an interesting and attractive project for us "old". The dystopian future is certainly one of them: Blood Dragon is set in a hypothetical 2017, but seen as it was imagined in the 80s. Very far from the soft lines that would actually have been, light years away from the predominant neutral colors to the white of the future reality, quite another thing considering the cleanliness of the industrial design that would then take hold. Blood Dragon is beautiful for this very reason, for its alternative and totally different way of being. Caciarone, ultra colored, angular and shimmering. Another element, in addition to the dystopia, is the fact of representing a good part of the science fiction culture of that era, with dozens and dozens of spectacular and not too veiled quotes. Last but not least, the legacy of film and television pop culture once again masterfully represented, deliberately in an ironic way, certainly with a lightness that we like and entertain.
Between gameplay and pop culture
The Far Cry 3: Blood Dragon logo Far Cry 3: Blood Dragon uses the know-how of the third main chapter to propose something diametrically opposite and innovative for the genre. Since this is a relatively light-weight stand-alone DLC (about 2GB of hard disk space) it can be deduced that the strong point of the Ubisoft game is certainly not the wealth of content, but far from it. The gameplay has been simplified and has abandoned all that role-like part around which the main chapter revolved. In Blood Dragon the experience level automatically rises as the adventure progresses with no ability to customize skills or stats. But its simplicity is also its strong point.
Blood Dragon wants to keep the gamer glued in a light, ironic and irreverent way, without too much reasoning or difficulty of any kind. Just as the culture of the 80s taught us, you have to shoot without asking too many questions (Commando, Cobra, A-Team and many others ... docet!). In the adventure we take on the role of Sergeant Rex Colt, catapulted to a remote island within an apocalyptic post-nuclear scenario dominated by cyborgs. Further conflict must be avoided. The robots want to get hold of a very powerful weapon and we will go to solve the situation simply by razing everything that moves on the screen to the ground.
Rogue nostalgia and the fascination of quotes
A shooting from Blood Dragon We liked this little Ubisoft gem for its mix of gameplay, fluid and without many frills, the graphics with a fluo flavor like an Invicta backpack, the electronic soundtrack shot at a thousand. The gameplay and mechanics are the same as in Far Cry 3, but the stealth action has almost been replaced by long, breathless shooting sessions. The dense vegetation of the main chapter has given way to much more open and airy levels, suitable for facing enemies "openly" without many thoughts. Among these elements that support the main game, however, there are dozens and dozens of goodies that every big boy raised on bread and G.I. Joe will surely appreciate it. Do you think that the voice actor of the protagonist of the game is even Michael Biehn, an American actor who has filmed both in Terminator and Aliens by Cameron (it was Hicks).
The red robotic eye itself is an obvious homage to Schwarzenegger's T800. His final weapon, called the Death Star, is very reminiscent of the one already seen in the film Krull, another iconic film of the 80s. There are multiple citations to Rocky 4 (one level is even called "you spiezzo in two"), also thinking about the soundtrack of Stallone's workouts that we listen to even during the phase in which the protagonist discovers the final bioweapon. The beauty of Blood Dragon is also that of discovering all these quotes by yourself during the game campaign, which lasts from 4 to 6 hours depending on how it is dealt with (it is still an open world). There really is everything. Ninja Turtles, Robocop, Star Wars, Karate Kid, The Empire of Darkness, Predator, Michael Jackson ... and even My Friends, thanks to the excellent localization of the Italian branch of Ubisoft.
Accomplice the long period since its release, Blood Dragon can be found today at ridiculously low prices on all digital stores. Our advice is to retrieve it and enjoy it now, before the 90s start to go out of style.
Have you noticed any mistakes?