Google Stadia shuts down, but cloud gaming has never been better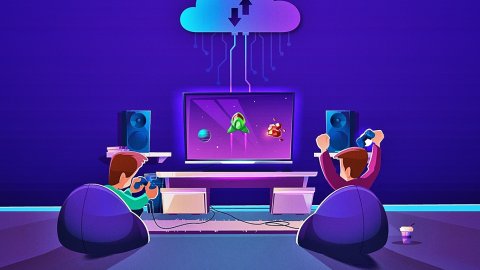 Google Stadia shuts down
Google Stadia didn't make it and the news certainly didn't take us by surprise. It was now more than a year that the service gave the impression of being hanging by a thread: no important news, no new games or new patches for those already present. And given the historian of Google, a company that has never bothered to quash an idea after spending huge amounts of money on it, only an incurable optimist would have seen good news in the disturbing silence around Stadia.
For Google's cloud gaming service, things never went as planned, not even on its debut without a large chunk of features, some of them truly mind-blowing, promised in the first place. Functions that never arrived on which the company soon began to turn a deaf ear, perhaps hoping that users would forget them as soon as possible. Nevertheless, it certainly cannot be said that Stadia did not work well, indeed it was the only cloud gaming service to offer streaming in 4K at the limit of perfection, with zero lag even in the most demanding games such as fighting and competitive action.
A failure on many fronts, but all attributable to "Big G". Despite the closure of Google Stadia, cloud gaming
has never been
better.
Numbers compared
Cloud Gaming: over twenty million users have tried Nvidia's service The biggest problem, the only really insurmountable one for Google, was the quick drying up of the third party offer. Often, over the past two years and through special writings, videos on Youtube and live on Twitch, we have tried to explain to you why the consolidation of the video game industry would have served, rather than to strengthen Sony and
Microsoft
, to cripple the attempt. of Amazon and Google to enter the industry. In a very short time, Stadia and the other possible competitors found themselves without the games of the former Zenimax group, Activision
Blizzard
, Bungie, moreover without having internal studies that could fill the void.
Aside from Bungie, the rest ended up in the hands of Microsoft, which is currently also one of the most successful companies in the field of cloud gaming: in 2020 Xbox Cloud Gaming had hundreds of thousands of accesses, but in 2022 the users who have tried the Microsoft service become more than ten million. Sony, on the other hand, has not communicated new data on the
PlayStation
Now for some time: the service officially debuts in 2015 and up to 2019 has about 700,000 users, very low numbers which, however, triple in 2020 and certainly did not stop in the following two years. GeForce Now, which allows you to play your PC games through the cloud, has gone from two million subscribers in 2020 to over twenty million in 2022.
This is not meant to be a comparison between services, cold numbers instead they are indispensable to demonstrate two very important things: the interest in cloud gaming not only exists, it is also growing rather quickly. Except that in large part, and without surprise, users have chosen services they offer or exclusive details, such as Flight Simulator or the next Starfield on Xbox Cloud Gaming, or access to PC games without the need to have one in able to spin them. Stadia debuted amid public curiosity, but over the course of its short life it has done nothing but re-propose games that everyone interested already owned.
It is no coincidence then that Google has never declared how many users has managed to involve Stadia: we know that there were two positive moments, the promotion to have two months of Stadia Pro for free and the debut of Cyberpunk 2077 , but both initiatives would not have had major effects on the population which, according to unofficial and certainly inaccurate counts, essentially stopped in 2020 at just over one million units.
Cloud Gaming: the Samsung Gaming Hub is one of the biggest news of the year, and we are only at the beginning No, the failure of Google Stadia has nothing
to do with
the health of cloud gaming which, in the coming months, is destined to further increase its hold on the public. Millions of players will be cut off from the next big game Bethesda, Starfield and, in your opinion, how will they try to make up for this if not with Microsoft's cloud? The new Samsung televisions and soon LG's new televisions will have their own gaming hubs where a steadily growing number of users will
be able to
access their software library without needing anything, if not a controller, any controller.
5G contracts will become more and more common allowing you to use the most expensive games in terms of hardware on the most run-down of smartphones; but more generally, the demolition of the digital divide will continue and the lines will become more and more performing and in a more widespread way. Furthermore, cloud gaming will be able to push
video games to
wards new gameplay formulas. There will still be some technical limitations, but for how long? And in any case, between Forza Horizon 5 at 1080p and 499 Euros of consoles, the masses can only choose the first option.
The key (s) time
Cloud Gaming: how many PlayStation users will they try Starfield through Xbox Cloud Gaming? After all, consoles are born with one goal: to make access to the video game easy and as economical as possible. Well, breaking news:
there is no
thing simpler and cheaper than clicking on a title and playing it wherever you happen
to be in
30 seconds. Of course, there are downsides, preserving games released only in the cloud will be, for example, a problem to be solved as soon as possible, but there is not a single time when the public has not gone in this direction. Stadia or not.
Have you noticed any errors?