No Man's Sky Outlaws: the new expansion is that of the turning point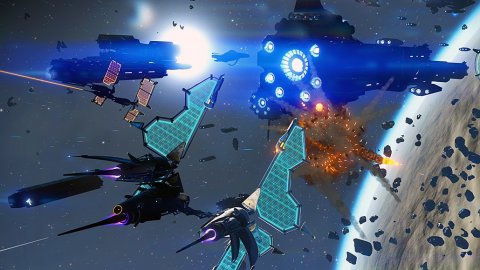 No Man's Sky Outlaws
The game Hello Games turns into No Man's Sky Outlaws: this is the title of the latest expansion of a game like no other, and of a story of redemption that is unparalleled in the entertainment industry.
No Man's Sky is continuing to grow and faster and faster. The previous update, Sentinel, was launched in February; Outlaws therefore arrives only two months after a rather important patch, but fortunately this has not limited its scope in the least. Outlaws, which focuses essentially on spacecraft combat, is just as fundamental an expansion as Sentinel, which has given a refresh to foot combat. With the last two expansions, Hello Games has therefore taken advantage of this early 2022 to completely renew the combat system of its game, which after many updates was the only aspect of No Man's Sky still stopped in the first months of the project's life.
An infinite loop?
No Man's Sky Outlaws: the new solar ships are really very beautiful and different from the other ships already present in the game Outlaws is an important expansion because it actually closes a cycle. With its arrival, No Man's Sky has finally reached the same maturity that many awaited to begin their first journey through this iridescent universe in the making. To the numerous functions and sub-functions introduced over the years, Outlaws adds everything necessary to enhance the renewed space combat, including a storyline that introduces the new contents, new illegal systems controlled by pirates and unprecedented operational bases that will allow trafficking with prohibited goods and taking part in other shady activities.
Also thanks to Outlaws, it will now be possible to create a squadron made up of four wingmen, who can be enlisted among the same aliens that are usually seen landing and departing in the game's outposts. Flying in formation is as exciting as you imagine, so is making sure you have the best pilots and even better all with the same spacecraft, but at the moment their effectiveness in battle is very low. It helps to have the wingmen with us more for the blows they will take for us than for the damage they will do to the enemies.
Don't underestimate this because with the new expansion the enemies hit much harder, and they are too become much tougher as they now mount energy shields that will need to be disabled before they can do any real damage, and they recharge pretty quickly too. The approach is rather simple, extremely arcade, which is also a bit of an excuse to hide the objective limits of AI under a carpet of stars, unable to perform slightly more complex maneuvers.
In the midst of what No Man's Sky offers, it's just fine, but don't expect who knows what leap forward with Outlaws, which in any case finally brings to acceptable levels what hasn't been for some time. As a result, we finally return to reload the shields in the midst of fighting, which we have
not done for
several years; this means that if attacked by a large group of pirates, perhaps even well equipped, it will no longer be so easy to save ship and hide, and in addition to doing damage we will have to be ready to collect in quantity.
Fights in the atmosphere
No Man's Sky Outlaws: fighting aboard your ship between valleys and mountains is really exciting News that push
to set up
a spaceship fleet made up of specialized vessels depending on
what you want
to do, making the most of the new illegal technologies that we will
be able to
buy in the outlaw stations and earn by fighting against pirate ships, capable of making the systems of the exosuit, spaceships and multi-tools even more powerful. In addition, as you may already know, Outlaws introduces a new class of spacecraft, the solar ships, with a very aggressive appearance, extremely light and equipped with special retractable sails for space travel. Another absolutely welcome novelty is the fighting in the atmosphere: not only will enemy ships be able to chase us up to touch valleys and mountains, but sometimes they will even attack outposts, sowing terror in the villages. To tell the truth at this moment a bug makes these attacks all too frequent, but the patch that should solve this problem has already arrived on Steam in an experimental version and soon, a few hours, it will be available for everyone and on all platforms.
Expedition # 6
No Man's Sky Outlaws: ... and let's not forget that No Man's Sky has over six years of additional content on its back. Along with No Man's Sky Outlaws, the new expedition has also debuted , which this time turned out to be unexpectedly exciting. The expedition will reward you with different items and, as a final reward, with a second cape in addition to the one that everyone can wear by running on the platform to change their character. The cloak is a new character customization item that can make every No Man's Sky screenshot at least three times more epic, and it looks remarkably good even on shorter Geks. But the innovations introduced by Outlaws certainly do not end here: like all the expansions of Hello Games it hides within it a myriad of tiny changes, and a lot of surprises partly revealed by the official website and partly still to be discovered. br>
L'arche du captain Blood
No Man's Sky Outlaws: now the pirates can attack the outposts from the sky, too bad they don't have (for the moment?) useful defense systems No Man's Sky is an increasingly large, engaging and stratified game, but what emerges from the latest updates is above all the desire to shake off all those elements that still have a certain amateurism, where you can notice more the inexperience in which the development team worked until a few years ago. With Outlaws, No Man's Sky continues a path that is increasingly thinning the minimalism of an independent game, in favor of a retail research from an experienced software house, an aspect and production values ​​of a large-caliber title. In short, No Man's Sky has become what it claimed to be at the beginning, and this adds to what it has always been: a raw pearl in the depths of a sea of ​​liquid metal, pulled by overwhelming lysergic currents. Pure European school, clear reference to the mystic L'arche du captain Blood by the French ERE Informatique, released in 1988 on the Amiga and ZX Spectrum and with which No Man's Sky has much more in common than several pieces of plot.
In the beginning ...
No Man's Sky Outlaws: the new cloaks make everything more epic! If, on the other hand, you have not understood anything but have reached the end of this article anyway, a small summary of the previous episodes: No Man's Sky is a game that puts you to grips with an almost infinite procedural universe and where, once you have repaired your spaceship, it is now possible to do a lot of different things. No Man's Sky has a very beautiful and replayable main storyline, and includes several endings with quite drastic consequences, it also offers other minor but no less interesting storylines, all related to important functions of the game.
One day you could try to hatch an egg capable of generating an organic spaceship, and the other pass it to furnish your new base in a paradise planet, or repair your fleet of raiders who have come out battered from the last mission, or why not exploring the depths of the sea with a trusty hi-tec submarine? All this, and trust me much more, can also be done in co-op, moreover the Nexus
has been in
troduced for some time, an online spaceport where the comings and goings of players and their spaceships is continuous. In the Nexus
it is possible to
do a lot of things, including taking part in special missions with the rest of the community, visiting the bases of random people, buying new technologies or just enjoying the atmosphere when the silence of the universe becomes unbearable.
The perfect strategy
No Man's Sky Outlaws: it is now possible to own up to nine different spaceships But the most surprising thing, besides being translated into Italian, is that the model of No Man's Sky business does not include paid expansions. Everything that has been added in what are now six long years, is all included in the only version of the game on the market, even the one you will find in the basket of God-forgotten games in the worst GameStops in Caracas. If you wonder how they make money, just look at the sales trend: with each expansion, No Man's Sky reaches more and more audiences, sells more copies also thanks to a discount strategy aligned with the distribution of these big patches. And there is no trace of microtransactions.
That's enough, and it's not a little, to certify No Man's Sky as one of the most surprising, original and courageous games of recent years. Now more than ever.
Have you noticed any errors?