No Man's Sky Outlaw: Outlaw themed update 3.85 trailer, here are the official news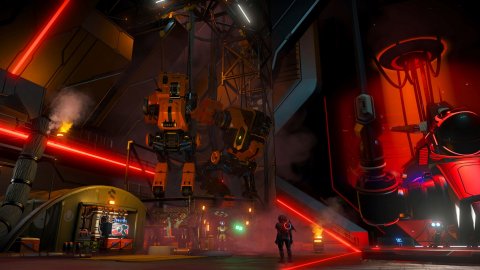 No Man's Sky Outlaw
Update [15:10, April 13, 2022]: Hello Games has finally released the official trailer for No Man's Sky update 3.85, known as Outlaw. You can see it above.
Here is the news revealed by Hello Games via the official No Man's Sky website.
Outlaws have taken control of space stations across the galaxy. Outlaw systems are dangerous, lawless places, with frequent conflicts (but all this presents an opportunity for players to attack passing spaceships ...)
A new series of missions leads players to zones of rebellion, where they will find an underworld that offers pirate missions, black market technology, and the ability to acquire illegal valuables in other parts of the galaxy. Like-minded players can also acquire a fake passport which will allow them to bypass the authorities.
With a single solar powered sail and elegant bodywork, this is the ship of choice for those looking to whiz through the stars. The Solar Ship is No Man's Sky's first new spaceship since early 2020. There is considerable variety in this range of ships, so we can't wait to scour the galaxy to find the perfect version to match your fleet. existing. The maximum number of ships a player can own
has been in
creased from six to nine, so you don't have to worry about limiting your fleet.
Illegal goods can be bought in outlaw systems and smuggled for a significant profit. The life of a smuggler is dangerous. The Sentinels are looking for contraband.
All players, not just smugglers, will benefit from the addition of specialized cargo inventories on all spaceships. These high-capacity slots can store large amounts of cargo, and storage hungry players can unlock extra slots from the ship upgrade terminal found on all space stations.
Players can now recruit and upgrade their wingmen. Collect your perfect set of ships and pilots. Each pilot comes with their own skills, and can be upgraded over time to improve combat prowess.
Space combat has been overhauled for speed and excitement. Handling has been improved, weapons have new visual effects, and enemy spaceships now have shields. Depth has also been added to the weapon selection with a variety of specialized secondary effects, such as slowing enemy engines or disabling shields. Ship-to-ship combat can now also take place within a planet's atmosphere - and pirates can raid your settlements. For those who find space combat difficult, accessibility to flight has been significantly improved with a new Auto-Follow mode.
To follow, the original news.
Original News: Hello Games has released the update 3.85 (known as update 3.085 on
PS5
) of No Man's Sky. This update introduces various new pirate-themed outlaw, already anticipated with a teaser. Also, a trailer was shared, then put as private. However, one user was able to reload it before it disappeared: you can see it above.
The weight of the No Man's Sky 3.85 update is 14 GB in the
PS4
version and 7.7 GB in the PC version. We have no information related to the PS5, Xbox and
Nintendo Switch versions
. For the moment, an official developer patch note is not even available.
The trailer for
No Man's Sky, however, shows the news that will be present. We can see a space station of outlaws and sellers of stolen items. There is also talk of a new story dedicated to outlaws, there is also talk of a new Solar Ship, forged passports, hoods and cloaks, Nexus missions, the possibility of creating a squadron, more spaces for ships, planetary frigates, raids on camps. of pirates and bounties.
For the moment we cannot confirm that this is all that is present in No Man's Sky update 3.85: there is nothing left to do but wait for Hello Games please confirm the information.
Source # 1 Source # 2 Have you noticed any errors?
---
No Man - Bing News
Hello Games shows no sign of slowing down updates to space exploration game No Man's Sky, dropping the new Outlaws update just two months after the last one. This new update once again brings a whole ...
As teased in the video below, Outlaws turns willing denizens of No Man's Sky into rebels, allowing them to take on illicit missions at space stations overrun with dangerous criminals.