Kingdom Hearts 4: a clue hidden in Nomura's 20th anniversary message?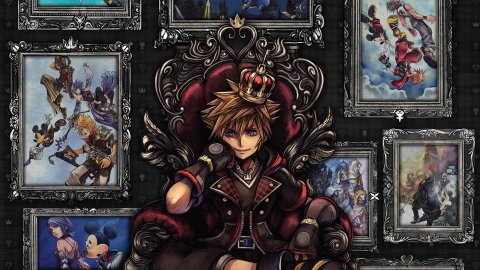 Kingdom Hearts 4
When it comes to Kingdom Hearts you often have to rely on bizarre theories, because these have a very good chance of being real, so it is no surprise that many see a clue about Kingdom Hearts 4 hidden in a recent message from Tetsuya Nomura, the director, on the occasion of the celebrations. for the 20th anniversary.
The Kingdom Hearts 20th anniversary celebration event is currently underway, complete with a physical and in-person party, and right within this a message has emerged written by Nomura for the occasion.
The message itself is very generic and talks about the whole series and what it meant for the author and the players, but what is attracting the attention of fans is a positioned "x", apparently at random, right in the middle of the text, with no particular meaning compared to the rest of the message.
However, we know well how the details are hardly placed at random in this series, therefore according to some this x would refer to its transliteration according to the symbolism used by the series, that is to the number "4". This could therefore be a reference to Kingdom Hearts 4, a first vague mention coming directly from Nomura.
Another clue would be hidden in another artwork published also on the occasion of the 20th anniversary, the one reported in the tweet below . The image seems to contain 4 spaces for as many drawings, presumably referring to the main chapters of the series. One of these is vacant and suggests it may be filled soon by the announcement of Kingdom Hearts 4.
That a new chapter is planned for the series is obviously not a mystery, but so far no one has ever spoken clearly about Kingdom Hearts 4, so any reference to this is a novelty, although in this case the question is really too vague. In recent days, we had also seen a 20th anniversary sketch shared by Nomura, waiting to hear about
the future of
the series.
Source Have you noticed any errors?
---
Kingdom Hearts 4 Trailer Reveals Next Entry in Disney-Inspired Series
Sora is looking older in Kingdom Hearts 4.
Square Enix
Kingdom Hearts 4 is in development, Square Enix revealed Sunday during a 20th anniversary livestream for the Disney-themed video game series. The trailer (4:06 to 7:40) shows that iconic trio Sora, Donald and Goofy will be back in action.
It'll kick off a new storyline called the 'Lost Master Arc,' and sees Sora exploring a city called the Quadratum.
No release date or platforms were revealed, but Kingdom Hearts 3 came out six years after its 2013 announcement and is available on PS4, Xbox One, PC and Switch (though the latter is only available via cloud streaming).
Also revealed was mobile spinoff game Kingdom Hearts Missing-Link, which will be available for iOS and Android devices. It'll get a closed beta test this year, but only in certain regions -- Square Enix didn't say which ones.
Get the CNET Culture newsletter
Explore movies, games, superheroes and more with CNET Culture. Delivered Tuesdays and Fridays.