Genshin Impact: likeassassin's Amber cosplay is cheerful and detailed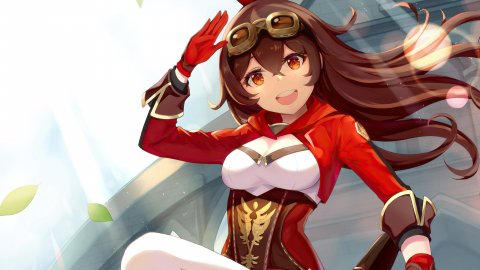 Genshin Impact
Genshin Impact
will no longer be a novelty, but its success has certainly
not stopped
. As always, new characters continue to arrive and expand the roster of warriors at our disposal, but there are some classics that are never forgotten. An example is the one
proposed by
likeassassin, who now shows us his own cosplay of Amber.
Amber is a warrior who uses fire and is one of the very first characters proposed with the publication of the game. likeassassin offers us a "lightened" cosplay of Amber, but does not forget the
most important
details, such as the red bow that looks like a pair of bunny ears.
If you are big fans of Genshin Impact, then you should see Amber
cosplay from
mochiiimarie. How can we forget the cosplay of Kokomi by likeassassin. Here is also Mona's cosplay from ri.care. Let's close our list of suggestions with sayathefox's Lisa cosplay.
Tell us, what do you think of Amber's cosplay made by likeassassin? Has the character of Genshin Impact been recreated in the best way, or do you think you have seen higher quality versions?
Have you noticed any errors?
---
Genshin Impact Ayato banner 4 stars characters predictions and date
The release date for the Genshin Impact Kamisato Ayato banner is near and there are a bunch of predictions online for its 4 stars characters.
We are currently in the final stages of version 2.5. Right now we are blessed with reruns of Kokomi and Raiden Shogun, but this event wish will end in just over a week.
Venti and Ayaka are two exciting reruns for update 2.6, but it's the debut of the new Hydro that fans are anticipating the most.
When does the Kamisato Ayato banner come out in Genshin Impact?
The release date for when the Kamisato Ayato banner will come out in Genshin Impact is March 30th.
He is positioned as the first character event wish and he will run alongside a rerun of Venti. It will act similar to Kokomi and Raiden Shogun meaning the event wishes will be individual but share the same 4-stars companions.
The forthcoming debutante is a 5-stars protagonist and another Hydro user. He is head of the Yashiro Commission and his full list of skills have been shared by Honey Hunter World.
Genshin Impact | Version 2.6 "Zephyr of the Violet Garden" Trailer
BridTV
9061
Genshin Impact | Version 2.6 "Zephyr of the Violet Garden" Trailer
975099
975099
center
13872
Ayaka
Ayaka is the second rerun for update 2.6 and she will come out in the final phase of the chapter.
This means she will make her return on April 19th provided there are no delays. Her inclusion was predicted and leaked before miHoYo's special programme preview, but she's decent enough for fans to anticipate.
Before update 2.6 comes out, make sure to open the Zephyr of the Violet Garden event webpage in-game and share it to get 20,000 Mora.
Genshin Impact Kamisato Ayato 4 stars character predictions
Barbara is included in our predictions for the 4 stars characters on the Kamisato Ayato banner in Genshin Impact.
This is because character event wishes typically include a companion who shares the same element as the headlining protagonist. Ayato and Barbara are both Hydro, and it can't be Kokomi as she's part of update 2.5.
It also can't be Xingqiu because she was part of the Zhongli and Ganyu rerun in version 2.4. Aside from Barbara, our other prediction includes Razor because he hasn't been seen since the 1.6 Kazuha banner.
Lastly, we are also predicting the inclusion of Sayu or Sucrose. Sayu hasn't been part of a character event wish since the 2.2 Hu Tao rerun, meanwhile Sucrone was last seen in the 2.1 Raiden debut. Both seem a good fit as they share the Anemo element with Venti.
Check out this Reddit post on the history of 4-star character event wish appearances to help make your own predictions.
WARZONE: Season 2 Reloaded update time and Rebirth Island map changes
In other news, Genshin Impact Ayato banner 4 stars characters predictions and date