Elden Ring, roga_na_noge's Malenia cosplay kills you just looking at it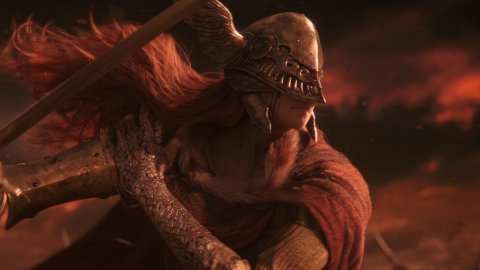 Elden Ring
Malenia is certainly one of the most charismatic and fascinating characters in Elden Ring, so it's nice to see her represented in an equally impactful cosplay of roga_na_noge, which seems to
be able to
kill in a moment.
As you can see, the costume is made with great care and reproduces the original in all details, starting from the pieces of the cuirass, finely worked, passing through the accessories, such as the belt and the cloak. Of course, the helmet, visible in the second image, could not be missing, which enriches even more a work of great value.
Little to say, that of roga_na_noge is currently one of the most convincing Malenia among those made by cosplayers from all over the world or, even if it must be said that there are other valuable works around. After all, the game phenomenon of the moment deserves the right care.
Malenia, Blade of Miquella, is one of the optional bosses of Elden Ring, among those decidedly difficult to defeat, also because every time he parries a shot he heals himself . Besides, she is also very shrewd in combat and does not let herself be fooled by the usual strategies.
Have you noticed any mistakes?
---
Sellen Elden Ring Quest: Where to Begin and How to Finish
The Sellen Elden Ring quest is one of the tricky side missions that reward generously, despite having a pretty long process to complete.
Elden Ring is filled with various NPCs that each one has a different story to tell. While there is no exact marker on the map to follow these side missions, you can still go after them by exploring the Lands Between.
CHECK THIS OUT: The Last of Us' hunt for the Role of Sam Gives Fans a Hint at Development Status
Sellen is a kind sorceress in Elden Ring with a strange story. She will reward you with valuable magical items if you help her to shape her destiny.
Elden Ring | Story Trailer
BridTV
7155
Elden Ring | Story Trailer
https://i.ytimg.com/vi/K_03kFqWfqs/hqdefault.jpg
918751
918751
center
26546
In order to start the Sellen quest in Elden Ring, you will need to meet the sorceress in person. You can find her inside the Waypoint Ruins in Limgrave. There is a giant flower at the entrance of the ruins, but you don't need to kill it.
Once you head inside the ruins, you will need to kill a Mad Pumpkin Head before you can meet Sellen. This is an easy fight for patient players. You just need to have a good shield to defend the pumpkin's attacks, and then deal damage when his weapon is stuck in the ground for a second.
Once you kill the pumpkin head, open the door and talk to Sellen. Express your desire to learn magic from her and accept to follow her orders. With this conversation, the Sellen quest begins.
How to Complete the Quest
Sellen's quest is not a straightforward one, and it will take some time to complete it. First of all, you should open your way towards Mt. Gelmir and head to Primeval Sorcerer Azure Site of Grace. This is located next to a bridge near the Hermit Village.
Once you talk with Azur himself, you should ask him to show Azur's sorcery. After the conversation, head back to Sellen's location and talk to her about Azur and accept to start a journey with her.
Now, you should find Lusat. He is located in a hidden place behind a tricky wall in the southwest of Fort Faroth in Caelid. Hit the wall to open the hidden path. The path will lead you to Lusat.
After talking to Lusat, meet Sellen once again. Speak with her about your conversation with Lusat. After that, Sellen's quest will be progressed after killing Starsourge Radahn. You will meet Sellen in Waypoint Ruins for another time after killing Radahn.
Now, you should head to the Witchbane Ruins in Weeping Peninsula, find the real body of Sellen, which completes the quest.
Elden Ring is now available on PS4, PS5, Xbox One, Xbox Series X, Xbox Series S, and PC.
Source: IGN