Accessibility and inclusiveness: interview with Chris Bruzzo, Chief Experience Officer Electronic Arts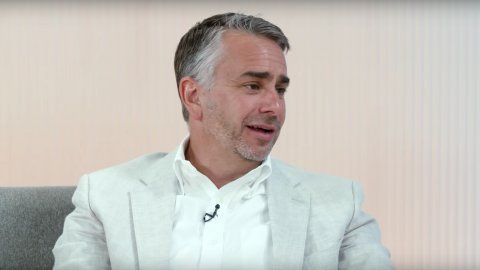 Accessibility and inclusiveness
Inclusiveness, accessibility and representation are very strong themes in contemporary videogame productions, which acquire
more and more
relevance in the face of the cultural change we are experiencing. The sensitivity and feelings of others play a central role in the scale of values ​​of the new generations,
and video games
, like many other entertainment mediums, want to keep up with the times. To supervise such an important aspect of their productions, large publishers have strengthened the professional figures that revolve around the communities, sensitized their employees towards inclusive policies, and which must be reflected both in developed video games and in the workplace. Thanks to
Electronic Arts
, we were able to interview one of these figures, their Chief Experience Officer, Chris Bruzzo.
Joined the EA team in 2014, Bruzzo took over as Chief Experience Officer in October of this year and faces his new position with passion and determination. His personal experience (Bruzzo is the son of an Argentine immigrant, ed.) Led him to develop the strong conviction that inclusiveness and diversity are essential principles of thriving communities,
in video games
and in life in general.
We therefore took the opportunity to ask him some questions about his role and how inclusiveness and representation are addressed in Electronic Arts studios. Here's what emerged in our interview with Chris Bruzzo, Chief Experience Officer at EA.
Guidelines on representation and inclusion
Chris Bruzzo, Chief Experience Officer Feeling represented and actively participating in a community is essential for a successful video game, especially a game-as-a-service. How and how much has EA's approach and opinion changed on this issue?
We have always believed that everyone should
be able to
participate in the video game with joy. At the heart of our vision is the creation of incredible products with characters that are as diverse as the communities we reach, uniting players around the world through the power of the game. What we have been working hard on is moving from representation to inclusion - there are many elements to take into account and we are working hard in different parts of our company to achieve this. We truly believe that being part of a community must be a positive, fun, fair and safe experience for all of our players. Whether you are a new player or a veteran like me!
There are several ways to achieve this. One is to have a clear code of conduct. Last year, we launched the Positive Play Charter to make it clear what we expect and don't expect from our communities. It is a set of guiding principles that reflect our values ​​and that are intertwined in everything we do. When there are guidelines for making communities more positive and welcoming, then more people feel able to join and participate.
The Apex Legends Season 1 roaster Another is through impersonation. Take Apex Legends, one of our most popular video games from the live service, for example. It was recently named the most diverse game by independent research studio Diamond Lobby, thanks to its diverse roster of characters that allows more players to feel represented in the game.
And then, of course, as part of that we want our games to be accessible to as many players as possible. Apex Legends implements industry-leading accessibility technology in its 'Ping System' to allow players on the same team to communicate with each other without having to use voice chat. This is great for players who are unable or prefer not to communicate verbally. Innovations like this allow more people to feel included in communities and ensuring that all our players feel able to participate in all the games we play and the communities around them will continue to be a top priority for us. Ultimately, I am really proud of the progress we have made, but I know there is still a lot to do.
Community: the voice of the public
Feedback from the community has been essential in the development of all expansions of The Sims The community is an important thermometer that all publishers must manage and listen to. How is EA doing and how is community feedback collected and processed?
We never stop listening to our players and welcome their valuable feedback at different stages of making our games. It goes without saying that we want to create the games they want to play and our players play a vital role in influencing our development process. To do this, we actively seek player feedback in several ways. We've formed groups called Player Councils, which are made up of some of our most passionate players, who meet with our development teams to discuss the experiences we're building, the changes we're making, and give feedback.
These tips provide an incredibly valuable and insightful insight into our players, as well as giving them the opportunity to step into our process and share their perspective. We also listen directly to players who connect through the telephone, chat functions and online help. We have over 1,000 people on our customer support team who help players in real time, and our community teams around the world engage and interact with players on social media. One example is Top Bins, our FIFA show on Twitch: this way communities can reach us in whatever way works best for them.
Making a community livable and healthy
Monitoring your own community, like Apex Legends', ensures a better gaming experience Making a community more inclusive also means protecting players: what are the ways that EA has found most effective over the years to make its communities livable and healthy?
I've talked about this before, but building inclusive online communities is something we take very seriously and the Positive Play Charter has been very central. Our Charter defines the fundamental behaviors that we expect our players to follow: for example, treating others as we would like to be treated, being honest and playing video games the way they were meant to, without cheating and respecting the law, the civic sense and education in general.
When players use one of our services, they must accept our rules of conduct. We do this because we believe that video game communities work when everyone agrees to act in a way that is respectful of others. And when necessary, we take action against issues such as inappropriate language or unfair play, down to the rarest episodes of disturbing threatening or harmful behavior.
We know how important it is to show our values ​​and stand up for our beliefs. fundamental, and we do so every day through our actions and our work to protect and improve our community. Wherever we encounter abuse or discrimination, we act quickly and decisively to eradicate it by removing content, identifying misconduct and responding to reports as quickly as possible. For more serious incidents, we have the option to permanently ban players from our titles. It is not something we take lightly, but it is a tool we will not hesitate to use, if necessary, to protect other players and ensure that everyone has a positive experience when engaging in the game.
Teamwork
Do all EA games benefit from synergy with other internal teams Is being inclusive and open a philosophy that also influences the cooperation between the various EA development teams? Does it happen that the guys from Respawn Interactive, DICE, Maxis, and so on, discuss issues of inclusiveness and accessibility?
Absolutely yes. Inclusiveness is key to all of our teams, at the company level. We have a single Inclusive Design Framework across all of our studios to ensure the games we make represent our players. The framework was developed in collaboration with colleagues from our studios around the world. This core of filters challenges our creative thinking and helps all studios develop more inclusive characters and stories in our games. The painting facilitates the process of representation, the creation of multidimensional characters and the experiences of belonging. We also recently formalized the Inclusive Player Experience (IPeX) team, to strengthen our approach to accessibility across our organization. Each game is reviewed by an inclusive design board, which meets regularly during development to help review impersonation and accessibility concerns, content, or questions. Regardless of the studio, we all work hard to make sure our players feel accepted, listened to and supported.
Healthy environment for healthy work
To create a healthy community, you need an environment Equally Healthy Work EA cares about gamers, but it doesn't neglect its employees either, creating inclusive hiring and working environments and equal pay among its missions. Can we say that "healthy" play comes first from a "healthy" development environment?
I think the statement is absolutely correct. Creating positive experiences in our games and in our communities must come from positive experiences within our company. Our inclusive culture fuels our creative process and allows us to deliver incredible games and experiences to our players every day. We want to be a place where people with diverse and disparate backgrounds can create, play and connect with our games, but also a place where other people can do their best work and ensure that our games are enjoyed by the greatest number of players. individuals as possible. We are not saying that we have achieved perfection in this area, but we are truly committed to creating a positive, diverse and inclusive work environment. There is always room for improvement, but we are always striving to do even better.
Accessibility and Field Test
Star War Jedi: Fallen Order includes different difficulty levels to make the experience more accessible Speaking of accessibility, are EA developers free to act at their own free will based on the product they are developing, or
are there in
ternal guidelines that EA provides for meeting certain standards? >
When it comes to accessibility, we have guidelines to ensure that our developers are creating inclusive games, services and features that put all our players first. Our Inclusive Design Framework, which covers all aspects of inclusion in games and services, is a good example of this, with guidance on integrating accessibility goals into our broader strategy.
As a company and as an industry,
we need to
do more to make games accessible. More than one billion people in the world live with a disability, which is more than 15% of the global population. The video game is a hobby practiced by over 2 billion players around the world and attracts a diverse group of people, of all ages, genders and abilities. For example, we estimate that half a million Madden players have color blindness, so it's vital to have features in the game that make it easier for them to enjoy. Innovation is key to addressing the challenges of accessibility. Everyone at Electronic Arts, both on the development team and elsewhere, is invited to share creative ideas and thoughts that can help transform player experiences.
Estimates Half a Million Madden NFL 22 Players Have Color Blindness On the subject, how is the accessibility test conducted?
We have a dedicated team at EA that keeps accessibility guidelines on par with common industry standards and platform-specific standards. This helps us provide a common frame of reference for our teams on specific traits of our experiences. They do not dictate specific designs or specific implementations, but are designed to provide development teams with a baseline, from which they can determine any necessary action for each of their titles.
Raise awareness and disseminate, towards the future
Sea of ​​Solitude is an excellent example of how to deal with complex issues, raising public awareness Awareness is essential to see a progressive cultural improvement in terms of accessibility and inclusiveness: video games can become the privileged tool for raise awareness among the new generations?
We know it is a mistake to underestimate the power of influence that video games possess. I think you can draw parallels with other creative industries such as cinema and television, after all, the protagonists of the games are heroes for audiences all over the world, in the same way they would be in a film. Games go a step further than traditional media because they allow you to literally embody a different character and see the world through his eyes. This puts video games in an incredibly privileged position to help players empathize with characters from a variety of backgrounds. I believe that this way they can foster empathy and awareness of these issues in an extraordinarily powerful way.
Recently, publishers, developers and console makers seem to be more aware and interested in the topic of accessibility in video games. In your opinion, what are the next steps that the industry needs to take? What are the priorities that need to be worked on?
The process of making video games more accessible has no end, it is a constant journey, both for us at Electronic Arts and for the industry in general. We want to be a leader in this space and there is no better example than this than our recent Patent Pledge, where we made our accessibility patents open to all. The driving force behind this decision is that we want everyone to play our games, and we want it to be clear to the developers and the community that everyone is free to use our inventions to make games more accessible.
Did you notice errors?