Tom Clancy's XDefiant, the preview of the new Ubisoft FPS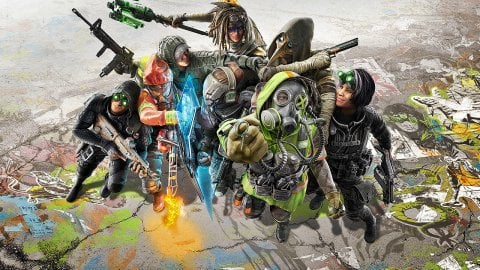 Tom Clancy's XDefiant
Watching the first videos of Tom Clancy's XDefiant one might feel quite blown away. On the one hand we have a strong reference to the quick and fast movements of the most recent shooters, in strong antithesis to the calm and reasoned actions to which the Ghosts have accustomed us in the past years, and on the other a visual style capable of creating a connection with the Watch Dogs series stronger than it can do with the Tom Clancy's brand. Neon graffiti, a Queen Elizabeth with a blue wolf under her arm, characters with a colorful and futuristic appearance, but also a mood that just fails to align with the more serious and mature war of the various Rainbow Six or The Division.
In this preview of Tom Clancy's XDefiant we try to draw a line and accept that this new project has different aims and ambitions, to be able to free itself from the heavy burden of a more static gameplay and propose itself on the market as a completely alternative offer to most popular Siege. It does not matter if doing so means going to step on the feet of a colossus called
Call of Duty
.
Free to Play
A realistic arsenal for XDefiant Let's start from the price or rather from the non-price, since XDefiant will be distributed through a free to play model and made available on all existing platforms at moment, Nintendo Switch excluded. We are talking about a 6v6 team multiplayer game where the imperative is to win but, above all, to have fun: this was the driving dogma of the entire presentation last night. Mark Rubin, whom fate still wanted to work on "Ghosts" after Call of Duty: Ghosts, in fact repeated several times during the event that Tom Clancy's XDefiant can be immediately approached with a competitive mentality, but he also wants to embrace the more casual community, the one that can devote a few hours to video games and that puts entertainment first. Over the years we have heard these promises many times, from different sources, with results that have never been able to fully satisfy the fringes of the public involved.
The hope is that this time Ubisoft will be able to hit the mark, giving a truly three hundred and sixty degrees experience without excessive stakes. Certainly not an easy task, which Tom Clancy's XDefiant tries to perform with a structure that, at least from these very first gameplay videos, seems to be able to give players a good blend of intuitiveness and depth. In fact, it only takes a few moments to understand the game modes, understand the minimalist interface and get an idea of ​​the classes available, a certainly important step to show that, when the title is ready to arrive on the market, it will not require a theorycrafting particularly demanding
in order to
be appreciated.
Well then, as long as the various combinations of weapons, gadgets and factions do not flatten excessively. At the moment
what we know
is that in the final version of the title there will be four main factions: Wolves, Forsaken, Purifiers and Echelon, each with specific characteristics that make it better than the others in certain situations, for example by exploiting a greater amount of hit points in the case of Wolves or a propensity towards damage for the Purifiers, elements that can be combined with the aforementioned abilities and ultra.
In action between slides and headshots
A Roster awaits us with colorful tones Completed and customized the loadout, we imagine something very similar to the
COD
classes, perhaps with additional perks and attachments for the weapons to be chosen carefully, adrenaline-pumping games await us where the modes do not want to try to offer anything revolutionary.
In the initial package there will in fact be ten maps available, including seven arenas, where you can play the classic Team Deathmatch and Dominion matches for example, and three more linear ones where you can throw yourself headlong into escort missions or checkpoints, for a result, at least on paper, more interesting than the VIP mode seen on Cold War, perhaps excessively chaotic. In all this, of course, a vast and ever-expanding arsenal of weapons could not be missing, based on really existing guns like the P90 and with particularly satisfying gameplay, again according to the developers.
At the moment, without having put your hand to the game, you have to trust us, and from what could be deduced from the first, very short, gameplay segments, the recoil of the weapons is extremely light, the feedback of the shots light and the time to kill very low, so much so that a couple of shots are enough and advance to knock out the opponents. We therefore expect a frenetic title but we also hope that the maps are able to offer ample space to use a little head
to avoid for
cing the players to throw themselves headlong into the action, sliding on the floor and shooting at anything you need. move as the only method of engagement.
Little originality yet interesting
It would be crazy to cry out miracle or revolution for this Tom Clancy's XDefiant, since at the moment it seems to be an extremely derivative title. However, Ubisoft has shown that it can support its products, even when things are not going particularly well, and transform possible obstacles into springboards from which to take off for its productions.
It happened with For Honor, still played today, it happened with Rainbow Six: Siege, which later became an
esports
phenomenon. A magic that doesn't always happen: Hyperscape, for example, was abandoned en masse after the excellent initial boost. This production, on the other hand, gives us a glimpse of good possibilities unlike the unfortunate Battle Royale, perhaps precisely because it closely resembles other titles of enormous fame, but today only accessible for a monetary outlay. It is true that COD is always in first position on the market but it is also true that if you want to play an arena shooter for free, the only valid alternative is represented by the Apex Legends Arena mode, otherwise the fallback is aimed at much more technical and competitive shooters. .
This also explains the aesthetics of the characters and the game world clearly intended for a young and unpretentious audience, where the style and some extra tamarrata can turn a blind eye to models and textures that are not of the highest level. In short, in line with what has been shown over the years by the Activision shooter.
This XDefiance is intriguing, perhaps not very original, but its free-to-play structure could attract more than a few curious people and maybe be able to create a solid community. The feeling we had watching these first movies is that we have a new version of Call of Duty in our hands, a sign that Mark Rubin's hand may have made itself felt heavily during development. Curiosity remains extremely high for now and we can't wait to touch the game system and its classes first hand even if, unfortunately, from the first closed beta on August 5th we Europeans will be cut off from the games. In the meantime, there remains the possibility to register on the playxdefiance.com site and hope for a lucky key. Just be careful not to be fooled by the Tom Clancy's brand, the game world and the characters are the ones you have come to know over the years but you will find an extremely different gameplay philosophy than you are used to.
CERTAINTY
Ideas already tested The free to play model is a wise choice DOUBTS Not particularly original ideas Will you be able to create a solid community? Have you noticed any errors?