Games with Gold, from Planet Alpha to Conker: Live & Reloaded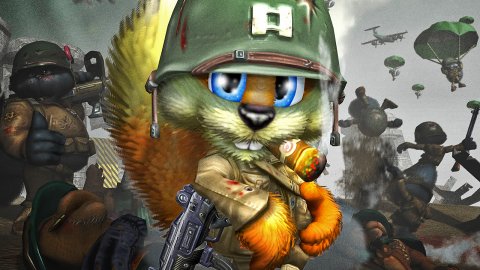 Games with Gold, from Planet Alpha to Conker
The Games with Gold continue their long journey arriving intact even in July 2021, although someone foresaw their retirement several months ago. Instead we are always faced with the standard scheme: two games for
Xbox
One and two games for Xbox 360, in any case all playable in backward compatibility even
on Xbox Series X
and Series S. Leaving aside the usual talk about the quality or otherwise of the games offered by the oldest
Microsoft
's subscription service as regards the Xbox division, let's think instead of how much good we can find in this month, which all in all defends itself quite well compared to other mandates we have seen recently. Obviously it being understood that the Games with Gold have remained more than anything else a sort of tradition to be preserved, rather than a strong point of the Microsoft offer, since the latter is obviously focusing on something else (
Xbox Game Pass
and cloud). br>
These are still four other games to add to your library for both Live Gold and Xbox Game Pass Ultimate subscribers, and if nothing else, choose them often unexpected and obsolete on the part of Microsoft regarding these titles mean that they have hardly been purchased previously by a large number of users. We can therefore see this initiative as a way to discover games that may have passed a bit on the sly, while on the other hand it also continues to offer classics that should not be missing in the libraries of fans, going back to the first Xbox, as we also see for this month. Before proceeding with the review of the games arriving in July 2021, we remind you that Shadows: Awakening from the Games with Gold catalog of June 2021 is still available for free for subscribers until July 15, so you still have time to download it.
Planet Alpha - Xbox One, from 1 to 31 July
The ancient tradition of 2D platforming lends itself to various interpretations, but those that favor exploration, especially in alien environments and strange as in the case of Planet Alpha, they always have a very special charm. Mixing original visions with a certain taste for classic science fiction, the game in question stages a classic situation but with a peculiar style: the protagonist wakes up, injured, on the surface of a strange planet called Planet Alpha and finds himself having to survive. in a situation of constant threat, since the wonderful alien landscapes also hide dangers everywhere. However, these must above all be avoided, or in any case faced using inventiveness and creativity: puzzle solving is the central element of the action, especially as regards the use of a particular power that the protagonist will soon discover that , that is the possibility to control the day and the night, interacting with the scenario by changing the state of light and the time in which you are. Although a bit short and with some balance problems, Planet Alpha is still a fascinating and original experience, definitely recommended.
Rock of Ages 3: Make & Break - Xbox One, from July 16th to August 15
Continuing with the particular Monty Python style, Rock of Ages 3: Make & Break offers another dose of surreal humor based on historical and mythological figures, seasoned with assorted memes and other follies. The aim of the game is to roll a huge sphere towards an enemy structure placed at the end of a path full of various obstacles and traps, trying to get to the end and destroy the objective. Each level is set in a different period and contains various historical and cultural references, obviously treated as material for comic and irreverent skits, but also brings with it various different characteristics in terms of threats and obstacles to the sphere. The latter is extremely large and powerful, so much so that it can destroy most of the enemies that parry along the way, but the best strategy to survive in Rock of Ages is to find the right trajectories and dose the speed in order to dodge obstacles and conserving energy for the destruction of the final objective, therefore each path requires a certain study and a very little caciarone approach, despite the style of the game clearly suggests the opposite. Various modes and even a track editor make it a particularly broad title in terms of game offerings, beyond its strange basic concept. Read more in the Rock of Ages 3: Make & Break review.
Conker: Live & Reloaded - Xbox, July 1-15
Conker: Live and Reloaded still appears today as a technically remarkable game It is a great pleasure to find the light-hearted squirrel Rare in backward compatibility and moreover freely accessible with the arrival of Conker: Live & Reloaded in Games with Gold. It is unlikely that you do not know what it is, given that it is a rather historical game, but in case we remember that it is a remake of Conker's Bad For Day released on
Nintendo
64 and probably represented one of the most irreverent productions in the entire history of Nintendo. It is a 3D platformer in the form of an adventure with narrative elements that makes scurrilous and politically incorrect humor its main style, which at the time was also somewhat discussed but is still very irresistible, also thanks to the various citations to popular culture. present inside. Conker: Live & Reloaded takes the contents of the original and significantly improves the graphics, enriching it significantly, as well as adding new things like the multiplayer mode. In case you have not played it previously, it is a practically obligatory download, as Conker now has a historical value and represents a 3D platform adventure from the golden age that is still perfectly enjoyable and moreover characterized by a truly unique style, between bad jokes, irreverent humor and absurd situations. In addition, the already remarkable technical base at the time is well supported by backwards compatibility, making it still current.
Midway Arcade Origins - Xbox 360, July 16 to 31
Being Midway, in fact , one of the historical pillars of the western videogame, Midway Arcade Origins has a certain value also from the documentary point of view, so to speak, collecting 30 classics of the label in question released mainly between the 80s and 90s. a collection released a little before the recent wave of similar operations and perhaps it lacks a bit of that nostalgic and almost didactic taste that the most modern collections have, limiting itself to presenting classic games without particular precautions beyond some graphic filter and without great historical insights and "museum" style extras. In any case, the collection is large and contains some milestones of the video game, so it can be an excellent system to try games that have in fact made the history of this medium, such as Defender, Gauntlet, Joust, Marble Madness, Rampage, Smash TV and many others. We are faced with clearly dated games at this point, some of which have not aged quite well, but which still represent an interesting and curious addition to any modern library, if only to see where some genres have come from that now impress us for graphic, technical and gameplay fidelity.
Have you noticed any errors?