watchOS 8 announced at WWDC 2021: all the news on Health and Workouts for Apple Watch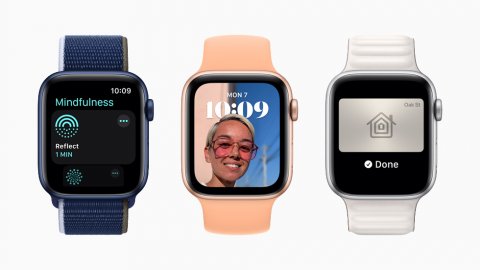 watchOS 8 announced at WWDC 2021
Through a completely digital event,
Apple
announced several important innovations at WWDC 2021. The focus of the event was centered on operating systems, in fact the new major releases of iOS, iPadOS and macOS were introduced. This year the Apple Watch will receive the update to watchOS 8, a small revision compared to the substantial changes we were used to in the past years.
The operating system dedicated to the Apple smartwatch inherits numerous functions discussed in our special on iOS 15, like the new Wallet app and Focus profiles. Apple then continued its work in the field of health to expand the functions related to this iPhone accessory.
In fact, the new Mindfulness app awaits us in watchOS 8, along with many small updates of the Health app. There were also new workouts in the Training app, as well as new customization options in the watch faces. So let's go and discover together every news of watchOS 8 announced during WWDC 2021.
Health
App Mindfullness, Portrait quadrant and Wallet on watchOS 8 Numerous scientific studies have shown the beneficial effects of meditation in daily life. In watchOS 8, the Breathing app transforms into the Mindfulness app, which offers an improved experience and the
new type of
Reflection session. The latter presents a meditation exercise in which we are asked to concentrate for just one minute wherever we are and at any time. Each Reflection session welcomes the user with a new deep thought to focus on and that stimulates a positive mood. For example, a message might appear like "Think about a recent occasion when you felt calm. Try to recall that feeling now" or "Reflect on something you are grateful for and try to understand why you appreciate it so much. ".
In the Sleep app we will find further information on the quality of our rest. Apple has introduced a new parameter that measures respiratory rate, which is the number of breaths per minute. To do this, Apple Watch uses the built-in accelerometer to measure breathing rate during sleep, and this information can be viewed alongside trends in the Health app on iPhone. The news related to the Health app, however, do not stop there. Through this application in iOS 15 and watchOS 8 it will be possible to share your data with a doctor, ensuring maximum privacy. Furthermore, thanks to family sharing, we will be able to monitor the biometric data of children or older people. The new Trends feature will let us know if our health is getting better or worse week after week.
Workouts
The new workouts available on watchOS 8 watchOS 8 introduces two new types of workouts practiced by many to stay fit and to promote meditation: Tai Chi and Pilates. The new types of training are supported by powerful algorithms created specifically to monitor heart rate and movements, in order to provide users with accurate metrics. Furthermore, through the subscription to Apple Fitness + (not yet available in Italy), users will find new workouts and guides to be able to carry out their daily workouts.
Daily use
The most popular watch face on Apple Watch The most used Watch Face in the world is the one with a personalized photo belonging to our albums. For this reason, Apple has decided to make this Watch Face even more unique by creating a screen with all the photos taken using the Portrait mode. The new Portraits dial brings beautiful iPhone portraits to life with an engaging effect, intelligently recognizing faces and then cutting them out and highlighting the subject. In this way we will always have the people we love most on our wrist. The three-dimensional graphic effect created by these portrait photos allows us to give a dynamic and modern look to our smartwatch.
The new text input functions in watchOS 8 Apple has changed the interface design in numerous applications within watchOS 8. The Home app has been redesigned to offer easier access to the accessories you need at a given time with the ability to remotely control them. HomeKit-compatible cameras can show us who rang the doorbell right from your wrist, and just a tap on the intercom button to quickly broadcast a message throughout your home or specific rooms via HomePod, HomePod mini, or other personal devices. The Photos app has also been redesigned offering new ways to view and explore your collections, featured photos and memories.
Communicating on Apple Watch is even easier on watchOS 8 with new tools available in Messages application. The user can use handwriting, dictation and emojis in text entry, and in dictated messages he can also edit the text once entered. To easily add even more personality to a message just enter a word or phrase and choose from the hundreds of GIFs available for the topic.
Have you noticed any errors?