Private Division signs an agreement with four indie developers: here are the details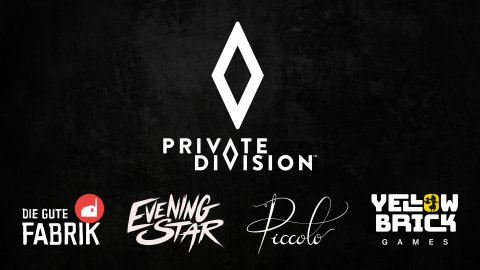 Private Division signs an agreement with four indie developers
Private Division, a label of Take-Two Interactive Software (also parent company of Rockstar Games), announced today that it has entered into four new publishing deals with independent developers Die Gute Fabrik, Evening Star, Piccolo Studio and Yellow Brick Games.
Following these acquisitions, which are added to the recent Roll7 one last January, the yet to be announced games of the four studios will expand the Private Division catalog, which already includes the Kerbal Space Program series, OlliOlli World, The Outer Worlds and other games.
In collaboration with the developers, Private Division will reveal new details of each project in the near future. The four titles are currently in the early stages of development and their release date has not yet been announced. None of the games are expected to be released before Take-Two's fiscal year 2024.
The logos of Private Division, Die Gute Fabrik, Evening Star, Piccolo Studio and Yellow Brick Games "Private Division is always on the lookout for Industry's Best Creative Talent: These four teams, and the titles they are developing, represent a range of genres that appeal to a very diverse gamer audience, "said Michael Worosz, executive vice president and head of Private Division. "Die Gute Fabrik, Evening Star, Piccolo Studio and Yellow Brick Games have very different creative visions, we can't wait to help them introduce their games to the whole world."
Die Gute Fabrik
Die Gute Fabrik was founded in 2008 by Nils Deneken and is now led by CEO and Creative Director Hannah Nicklin. This Copenhagen-based company develops story-driven games, their most famous title being the award-winning Mutation, winner of the IGF awards in 2019 and Indiecade, a mutant soap opera in which small-town gossip meets the supernatural. Die Gute Fabrik draws its inspiration from many different stories and disciplines, with the aim of broadening the horizons of videogames. The team is developing a new story-driven game.
"We are thrilled, Private Division shares our vision of the experience we want to deliver to our audience and the spirit with which we are collaborating in the process," said Hannah Nicklin, studio head and creative director of Die Gute Fabrik. "We are excited about our next story-driven adventure game and the team we have assembled to create it, and we can't wait to share more information."
Evening Star
Evening Star was founded in 2018 by Christian Whitehead, Dave Padilla, Tom Fry, Hunter Bridges and Brad Flick. Its headquarters are located in Los Angeles, with additional offices in London and Melbourne. Previously the founders have already worked for
SEGA
on the acclaimed Sonic Mania Plus. The debut title is an as yet unannounced 3D platform
game that will
use the proprietary Star Engine.
"We focus on enhancing the unique capabilities of the team with the goal of developing thrilling experiences, characterized by our unique style," said Dave Padilla, CEO of Evening Star. "Private Division has been a fantastic partner - their team shares our same passion and vision. As the firm grows, we can't wait to share more information about the world we are creating."
Piccolo Studio
Piccolo Studio was founded in 2015 by Alexis Corominas, Jordi Ministral and Oriol Pujado when the three friends left their successful advertising agency in Barcelona to pursue their passion for video games. Having enlisted many of Spain's most talented developers, the debut title, Arise: A Simple Story has earned critical acclaim for its narrative style and gameplay dynamics. They are now developing a new IP in collaboration with Private Division.
"We at Piccolo Studio build very personal stories that at the same time are grounded in universal themes that can impact anyone who tries our games," he said. said Alexis Corominas, co founder of Piccolo Studio. "We tell our stories in an original way and are very happy to have found a publisher who supports our vision and is equally focused on making our game reach a large audience."
Yellow Brick Games
Yellow Brick Games was founded in Quebec City in 2020 by industry veterans Thomas Giroux, Mike Laidlaw, Jeff Skalski and Frederic St-Laurent B. The small but extremely skilled Yellow Brick Games team has worked in the past on numerous successful AAA series such as Dragon Age, Assassin's Creed and Tom Clancy's Rainbow Six, and aims to offer very innovative emerging gameplay dynamics. The study firmly believes that emerging systems can bring rich, interactive game worlds to life. On this basis Yellow Brick Games is working on a new, ambitious action RPG.
"I find this challenge exciting: to build a new studio full of incredible talent, ambitious ideas and a true dedication to our product, taking risks that
may not be
acceptable in the development of an AAA game, "said Mike Laidlaw, creative director at Yellow Brick Games. "We want to present a very special debut title: the collaboration with Private Division gives the team the support they need to create a truly memorable game."
Have you noticed any errors?