The best free PS5 games in 2022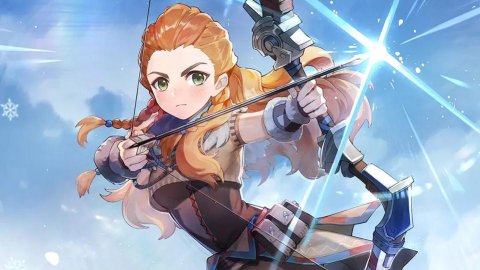 Although it arrived in the homes of fans just over a year ago, Playstation 5 already has a very rich and varied catalog of games. Inside there are video games of any kind and also many free-to-play, a "macro" genre that implies all those software that can be downloaded for free. These include shooters, sports, adventures and much more with one common denominator: playing them costs nothing. At least apparently.
Free to play are titles that the developer maintains and updates thanks to a system of non-mandatory microtransactions. Basically, if everything is done right, this means that access to the game is given, while many aesthetic and contour trappings remain for a fee, but optional. The use of the latter should absolutely not affect the game and the chances of winning during multiplayer battles, moreover.
After this long introduction, let's find out together which are the best free games for
PS5
in 2022!
Genshin Impact
Genshin Impact was one of the greatest phenomena of recent times The first free title that we want to mention in our special is one of the strongest hits of recent times, it comes from China and is called Genshin Impact. Probably many of you have already heard of it due to the hype aroused by the insane takings during its first year of life.
The videogame developed by the Chinese of miHoYo has in fact turnover more than Fortnite and GTA V, positioning itself in first place in terms of absolute profitability with about 3 billion dollars. Regardless of the numbers, it is a well-structured and very entertaining open world action RPG game, which can count on an accurate and captivating graphics able to make the various characters really pleasant. And since the economic model is based on the sale of the same, you will understand how it is essential for MiHo to regularly publish new protagonists able to conquer the imagination of the players.
Without a doubt, however, Genshin Impact remains one of the best free-to-play games on the market, a game that we highly recommend to every Playstation 5 user.
Kid A Mnesia Exhibition
An image of Kid A Mnesia Exhibition More than a real video game, we are faced with an intense and extraordinary visual and sound experience. Kid A Mnesia Exhibition, in fact, is a project entirely conceived and created by the English band Radiohead. This is also an entirely free to play title so you can try it without delay, whether you are a lover of alternative rock or virtual and mystical worlds. Or even better than both.
Kid A Mnesia Exhibition mixes visionary three-dimensional spaces with background music created ad hoc by the popular band, managing to make them an incredibly intense and profound experience.
Apex Legends
One of the protagonists of Apex Legends With Apex Legends Electronic Arts has created an excellent first person shooter that shares the same world as Titanfall, another very popular FPS for PC and console. The settings are therefore very similar and the story takes place far beyond the narrated events of the border war. The mechs and the almost parkour action of Titanfall are missing, but the sensations and the gunplay of Apex Legends are the same as the "big brother", representing almost a sort of battle royale expansion.
In fact, we start in a open map with your own team and the goal is to survive and remain the last in life. It has no "pay to win" elements, but only and exclusively aesthetic and personalization elements. For all these reasons and much more we consider it one of the best free games for Playstation 5.
Warframe
Warframe is another title you must try Another very interesting title available on the
Playstation store
is Warframe, a cooperative action game where we take on the role of the so-called Tenno soldiers, a science fiction ninja with the aim of winning a war between alien races. The game, received coldly at its launch, was then updated by introducing some new features and adjustments that have mitigated its defects.
After several expansions and enhancements that have expanded the game universe and updated the graphics engine on PC and PlayStation 5, Warframe is definitely an offer that must be tried. In the end it costs nothing.
Rocket League
Rocket League has received many updates and support A game that needs little introduction is Rocket League, a real online phenomenon of recent years and a favorite of many successful streamers. For the few who still do not know it, we can tell you that it is a very original title halfway between soccer and a game of radio-controlled cars.
Inside huge fields (obviously equipped with two goals to score, at both ends) teams made up of cars compete with the aim of pushing the big ball into the opponent's net. The concept is quite simple and therefore exciting. Excellent gameplay and the ease with which cars are driven has made it successful, as well as the fact that it has recently become free to play.
Fortnite
Spider-Man is one of the latest characters included in Fortnite We obviously have to devote a paragraph to what represents the "King" of free to play games. Let's talk about Fortnite, a game that has been able to redefine the concept of shooter and free video game at the same time. Thanks to its microtransactions it has quickly become one of the most profitable software in the whole globe, conquering millions of players and representing one of the most played titles at all levels, even competitive in the major world tournaments.
Fortnite is also one of the few cross platform
video games that
allows you to
challenge friends on other consoles, PCs or mobile devices.
graphics push for one of the most popular free to play games With recent expansions and new modes, Call of Duty: Warzone Pacific
is once again
one of the most played titles on any console and PC. This is the battle royale version of Call of Duty, in its latest incarnation "Pacific". Just like Microsoft recently did with Halo Infinte, Activision has also separated the annual chapter of
CoD
from Warzone, with the latter modifying its skin annually to accommodate the content, settings and players of the most recent Call of Duty. br>
Up to 150 players at the same time divided by teams (but this figure may vary according to updates), the last remaining team wins and survives. Compared to other similar games, Warzone has the peculiarity of being equipped with a very high level graphics sector and a certain realism in the use of weapons. A must try, this is also free!
Splitgate
A screenshot of Splitgate Halfway between Portal and a Halo-style sci-fi shooter, the very interesting Splitgate is available on the PlayStation 5 Store , the work of the telentious 1047 Games team. Among its pros we point out a great variety of maps, weapons and modes that makes it one of the most varied FPS in the free to play field. Another of its strengths is the use of portals which makes many situations fun and fresh, while the graphics sector is pleasant, even if it does not touch the peaks of a Call of Duty Warzone or other modern shooters.
Destiny 2
A screenshot of Destiny 2, Bungie's latest effort Another title that needs no introduction: Bungie's Destiny 2 is still one of the hottest MMO shooters. Although it has come out for a long time, with the new consoles the visual sector has significantly improved from the old 30 frames per second to the current 60 fps. The renewed graphic rendering has further improved the pleasant feeling of fire that the weapons of Destiny 2 give to the player during the sessions in PvP and in the story, also making it much more fluid and enjoyable.
Although the Bungie title is entirely free, the latest expansion called The Queen of Whispers is temporarily paid, waiting to be included in the base game making it completely free to play from start to finish.
Astro's Playroom
A nice screenshot of Astro's Playroom It is difficult to judge in a rigorous way Astro's Playroom, if not for the fact that you will find the game already pre-installed on your Playstation 5 and that it represents a sort of fully playable technical demo. Its undeclared goal is to introduce you to the next gen graphics and the new features of the Dualsense pad.
Astro's Playroom is a decent software that will entertain you for a few hours with a simple gameplay, but functional to
the new j
oypad. : the adaptive triggers and haptic feedback are exploited at 100% and show their full potential. The game itself is very easy, but enjoyable. We are sure you will all try it, if only because you won't even have to struggle to download it.
Have you noticed any errors?