vivo is once again Mobile Partner and Official Smartphone of the A TIM eSerie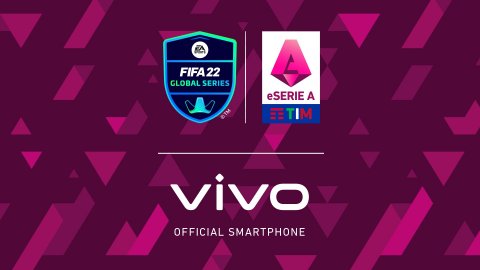 The eSerie A TIM 2022 has announced that its partnership with vivo, smartphone manufacturers, is renewing its presence in the official Lega Serie A eSport championship after being involved in the last edition's Final Eight.
As quality as Main Partner of the eSerie A TIM, vivo
will be able to
make its technology available to players and users sharing a passion for gaming and
football
. The partnership will be active in all phases of the competition, from the Online Qualifiers to the Final Eight, and will see the live brand also involved in special activations. The vivo products will be present in the competition and will be used personally by players, guests and influencers.
The collaboration is described with the following words: "A common feature between vivo and the eSerie A TIM is the pursuit of excellence, which in vivo's corporate culture is well represented by Benfen, or rather "doing the right things and doing them well, accepting to take responsibility." This is an objective that even the gamers protagonists of the competition will certainly pursue in their path towards the conquest of the title; precisely for this reason whoever succeeds in the enterprise will receive, in addition to the prize money, also a live smartphone. "
The logos of vivo, FIFA 22 and eSerie A TIM Michele Ciccarese, Commercial & Marketing Director of Lega Serie A, declared: "The eSerie A TIM is a championship looking to the future, exciting and engaging in which the he high standard of competition must always be followed by the excellence of the technologies and the partners that accompany it. We are extremely pleased to continue the collaboration with vivo, a brand that perfectly embodies these principles, with which we will tell stories of innovation in all phases of the eSerie A TIM, which we are sure will thrill the many fans of the tournament and in particular the younger generations. "
" Last year's partnership was a success and we are pleased to be once again alongside the eSerie A TIM 2022 for the entire championship. Cutting-edge technology, innovation and constant attention to news and new trends are an integral part of our approach both in design of new products and in the choice of partners. We believe that the world of e-
sports
represents the perfect union between the world of sport and that
of technology and
alive, as a brand with considerable experience in both areas, it could not help but be part of the game "- said Lindoro Ettore Patriarca, Marketing and Retail Director of vivo Italia.
Have you noticed any errors?