CES 2022: all the announcements from AMD and the first information on Ryzen 7000 CPUs with Zen 4 architecture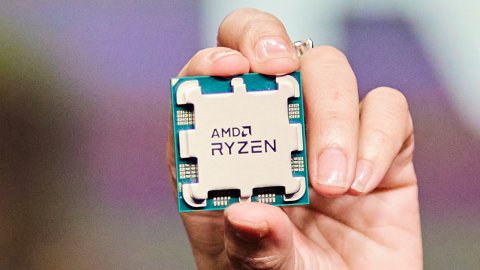 CES 2022
Also this year, AMD's CES 2022 gave us an overview of the technologies the company has in store for 2022, also revealing something of the AMD Ryzen 7000 processors with Zen 4 architecture arriving in the second half of the year. But there is still room for Zen 3 with the AMD Ryzen 7 5800X3D, an interesting gaming processor with 3D V-Cache memory that promises 15% more performance in video games, and a new desktop GPU is also on the way. the AMD Radeon RX 6500 XT, a budget solution with extreme frequencies. For the rest, as expected, the company's efforts have focused on the laptop segment, which has always been one of the main protagonists of the event held every January in Las Vegas.
And here we are in front of the AMD Ryzen 6000 series, the new family of mobile processors with Zen 3+ architecture at 6 nanometers that includes a flagship model, available in both the low and high consumption variant, in able to finally reach the 5 GHz threshold. But it is not the only big shot in a series that looks to creators and demanding gamers, without forgetting the portability with optimizations in function of increasingly thin and efficient laptops, a segment that will draw between the Another advantage of the new integrated RDNA 2 GPUs that promise 1080p gaming with few compromises even on ultraportables without a discrete GPU.
The power of ultraportables, however, will also increase thanks to new discrete solutions, specially designed to combine high power and efficiency with a lower thickness. We are talking about the AMD Radeon RX 6000S GPUs, designed for the growing segment of ultra-thin laptops, alongside which new solutions of the AMD Radeon RX 6000M series have also sprung up, led by the AMD Radeon RX 6850M XT.
AMD Ryzen 6000, the new mobile series
AMD Ryzen 6000 laptop processors are based on the 6 nanometer Zen 3+ architecture The AMD Ryzen 6000 series of laptop processors, name in Rembrandt code, it has four main models that see the AMD Ryzen 5 6600H with 6 cores and 12 threads at the rear. And it is also such as regards the integrated GPU with RDNA 2 architecture that in the case of this model is satisfied with 6 compute units. In fact, there are 12 GPUs equipped by the AMD Ryzen 7 6800H, AMD Ryzen 9 6900HX and AMD Ryzen 9 6980HX, all equipped with 8 cores and 16 threads and all designed for high-level laptops. Only the top of the range, however, can boast of being the first Ryzen capable of touching 5 GHz, even if it shares with the AMD Ryzen 9 6900HX the ability to go above the standard TDP of the 45 W series. >
All processors, among other things, include low-consumption HS versions, which among other things do not give up anything in terms of frequencies despite the reduced TDP from 45 to 35 W. Obviously this limit holds back maximum performance , but it offers advantages in terms of consumption that can be quite significant in the laptop environment. So much so that AMD has certainly not forgotten the U series, while limiting it only to the AMD Ryzen 5 6600U and AMD Ryzen 7 6800U models, with a variable TDP from 15 to 28 W that does not make itself felt on the boost frequencies, equal to those of the standard models, but is felt on the base frequencies, significantly lower.
No difference, however, as regards the supported technologies which include WiFi 6E, Bluetooth 5.2, HDMI 2.1, DisplayPort 2, PCIe 4.0 and memories LPDDR5 in function of ultraportables that promise to make an important leap forward thanks to the new processors, both in terms of efficiency and power. Also on the plate there is also the USB 4.0 which is equivalent to the standard of the Thunderbolt competition and therefore guarantees transfer speeds of up to 40 Gbps. Finally, the AMD processors are the first with
Microsoft
Pluton security and thanks to the combination of 6 nanometers and AMD Smart Technology they promise a titanic leap in autonomy. The promise, in fact, is that of a laptop that can work for 24 hours on a single charge.
Going into detail we are talking about 30% lower consumption in video conferencing, 15% lower in web browsing and 40% for video playback. All in the face of significant performance increases also for the AMD Ryzen 7 6800U which boasts, at least on paper, an increase compared to the previous series equivalent of 28% times in multi-thread power and 11% times in single thread. .
AMD Ryzen 6000, the new RDNA 2 integrated GPU
The performance of the RDNA 2 integrated GPU of the Ryzen 7 6800U In addition to increasing the ratio between performance and efficiency, the new processors AMD Ryzen 6000 make a clear leap in integrated graphics, eventually abandoning the Vega architecture. In fact, we move on to RDNA 2 and this means that we are facing the debut of ray tracing acceleration in integrated GPUs. Of course, a maximum of 12 computes combined for 8-core CPUs also means a maximum of 12 ray accelerators, with all the limitations of the case, but the promise of very high performance remains, obviously in relation to the integrated GPU segment. >
According to what reported by AMD's internal benchmarks, we are talking about increases of 69% in video encoding and 125% in rendering, at least in specific tasks, and a net leap even in gaming with a doubling of performance compared to previous generation in games such as Cyberpunk 2077, Back 4 Blood, Rainbow Six Siege,
Overwatch
, CS: GO and Battlefield V.
In terms of f ramerate we speak, contenting ourselves with low graphics settings, of over 60 fps in
Call of Duty Vanguard
and nearly 60fps in Deathloop with no need for FidelityFX Super Resolution. By activating it, however, it becomes possible to play
Far Cry 6
with medium settings at 59 fps, at least as reported by AMD, which are not bad for an integrated GPU which among other things is the 2.2 GHz one of the AMD Ryzen 7 6800U. . We therefore expect a few more frames from the version with a maximum clock of 2.4 GHz which is among the specifications of the higher AMD Ryzen 6000. Sure, AMD upscaling can't guarantee a perfect picture, but when it comes to laptops we're also talking about small panels that help hide compromises of this kind.
AMD Radeon RX 6000S and AMD Radeon RX 6000M
AMD Radeon RX 6000S laptop GPUs are designed for powerful yet lightweight and lightweight gaming laptops. AMD Ryzen 6000 processors aren't the only major news announced by AMD for 2022 laptops. Alongside the new processors, the company also presented a lot of new laptop GPUs, again built with a 6-nanometer production process, among which the new AMD Radeon RX 6000S, designed for gaming laptops, undoubtedly stand out. thin and light. We are not talking about ultraportable, mind you, but about 20% smaller devices, with a thickness of less than 2 centimeters and a weight of less than about 2 kg without sacrificing high performance thanks to optimization technologies that in addition to lower consumption promise a better workload management between integrated GPU and discrete GPU.
In the case of the AMD Radeon RX 6800S we are talking about more than 100 fps in 1080p, with graphics settings at maximum, while we go down to 100 fps and high settings with the AMD Radeon RX 6700S and we arrive at 80 fps, always with graphics parameters to the maximum, with the
AMD Radeon RX 6600
S that closes a very interesting new series. It is no coincidence that we will find these new models in a lot of the new gaming laptops arriving in the coming months, designed precisely to satisfy an increasingly large audience that is looking for the combination of power and convenience.
Speaking of mere power, on the other hand, is undoubtedly the AMD Radeon RX 6850M XT. On the other hand, it is the most powerful, with 7% more performance than the AMD Radeon RX 6800M, among the five new GPUs that AMD has created, also in this case by switching to the 6-nanometer production process, to enrich the AMD Radeon family. RX 6600. But the new chips do not take to the field just to raise the bar of power. The new options include the AMD Radeon RX 6300 and AMD Radeon RX 6500, two models with 35W design that look to low-power gaming laptops. In addition, the AMD Radeon RX 6650M and AMD Radeon RX 6650M XT promise up to 20% more performance than an AMD Radeon RX 6600, significantly altering the balance of the series.
AMD Ryzen 7 5800X3D
The AMD Ryzen 7 5800X3D processor uses 3D V-Cache memory to give the best in gaming Let's move on to the desktop news featuring the AMD Ryzen 7 5800X3D, a particular processor that, arriving in spring, fits into the existing lineup , making it fully compatible with AMD 400 and AMD 500 motherboards. But it is the herald of the new 3D V-Cache which with an increase in interconnect density by more than 200 times reduces latencies and allows the strange new AMD CPU to compete for the throne of best gaming processor. A strange champion, in short, who renounces trappings such as DDR5 or PCIe 5.0 to face the Intel Alder Lake processors to the sound of framerates.
In this regard, according to the AMD benchmarks, the new processor is in able, in 1080p, to clearly surpass an AMD Ryzen 5900X, fielding an average increase of 15% and offering up to 20% more performance in Far Cry 6, Gear 5 and Final Fantasy XIV, where it can boast, always according to internal testing, the same advantage over the Intel Core i9-12900K.
Speaking of selected games it is difficult to weigh AMD's claims that elevate the AMD Ryzen 7 5800X3D to
the best gaming
processor in circulation, but it is clear that the 64 MB of 3D V-Cache, combined with 32 MB of standard cache have an important performance impact, even more so considering that the new AMD processor stops at 4.5 GHz of boost clock, against 4.7 GHz of the base model, otherwise identical obviously excluding the new futuristic cache. br>
But this is precisely the protagonist, capable of highlighting the advantages of the three-dimensional design that we have already seen applied in the field of memories but which has made an important leap towards widespread diffusion with the AMD Ryzen 7 5800X3D. It is no coincidence that we bet that it will be one of the most relevant technologies even in the case of processors with Zen 4 architecture.
AMD Radeon RX 6500 XT and more
The AMD Radeon RX 6500 XT in the Sapphire Pulse version AMD's other desktop novelty for the CES 2022 is the AMD Radeon RX 6500 XT, a low-end video card that sets a new record for factory clocks with a Game Clock of 2610 MHz and a boost of 2815 MHz. Not bad for a budget model that can, however, leverage the higher efficiency of new 6-nanometer transistors, the same as all the new AMD products presented at CES. But the miracles are not of this world and the extreme frequencies still take a toll which in this case is equivalent to a 107 W TPD, not exactly low for a card with 1024 stream processors and 4 GB of memory.
The AMD Radeon RX 6500 XT, arriving on January 19th with prices that for custom models will inevitably exceed the recommended $ 199, is equipped with fast GDDR6 memories, capable of reaching 18 Gbps which are equally atypical for a entry level solution and undoubtedly contribute to interesting performances, clearly superior to those of the AMD RX 570 and GeForce GTX 1650. Not bad considering that we are talking about just 16 compute units which among other things correspond to 16 Ray Accelerators, unable to promise great performance with ray tracing.
The card does not lack rendering power and, according to data published by AMD, allows you to play in 1080p at 61 fps in Call of Duty: Vanguard, 62 fps in Deathloop and 59 fps in Far Cry 6, with high graphics settings and without taking advantage of the FidelityFX Super Resolution upscaling. Activating it in ultra quality, in fact, pushes it to over 80 fps with all three games, at least according to the slides shown by AMD.
We do not expect to be able to enjoy the latest generation games with AMD. Radeon RX 6400, a card that not surprisingly also had a small space during the AMD conference being intended only for low-end preassembled. However, it is worth summing up the characteristics that slip to 12 compute units and 768 stream processors. In addition, the 4 GB of memory slow down to 16 Gbps but all this contributes to low power consumption which plummets to 53 W.
AMD Ryzen 7000, first official details for Zen 4 processors
New and new architecture for AMD Ryzen 7000 processors Unfortunately, during the AMD conference, the space granted to the architecture of the company's future CPUs was not much and it did not give us great revelations outside of a particular packaging, shown by Lisa Su who has challenged a prototype of a Zen 4 processor on the stage of CES 2022. For the rest we have only found the confirmations of rumors, anticipations and obvious such as the use of a 5-nanometer production, support for DDR5 memories and support for the PCIe 5.0 standard.
Sure, we can imagine that 3D V-Cache will be there and will play an important role in ensuring a further leap forward in single thread performance, but we would not have disdained some more information on the CPU structure than with all probability has changed significantly. This can also be seen from the transition of the AM5 socket to the LGA format, with slats instead of the holes of the previous sockets, for what will be a completely renewed platform. While changing its approach, AMD has made sure to maintain compatibility with AM4 socket heatsinks and it is a welcome thing as is the decision not to overlap the nomenclature of the new laptop processors with future desktop processors.
We will in fact have the AMD Ryzen 7000 processors that in all likelihood will go hand in hand with the AMD Radeon RX 7000 GPUs, presumably arriving in the second half of 2022 just like the new Zen 4 CPUs. But it is also possible that the processors will arrive sooner, maybe in late summer. On the other hand, a Zen 4 processor was used during the conference, with all cores running at 5 GHz and Halo Infinite running at high framerate on the big screen, demonstrating a decidedly advanced stage of development.
Hai noticed errors?