Xbox Game Pass: all the most anticipated games of 2022 on video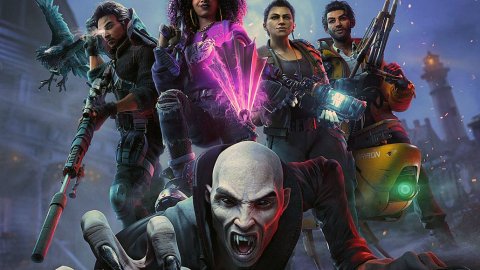 Xbox Game Pass
A wide and quality offer, a low monthly cost and regular updates.
Xbox Game Pass
has certainly built its fortune on these foundations, quickly becoming an essential subscription for Microsoft users, be it Xbox or PC. Also this year, between now and December, the service promises to shoot some arrows of its rich quiver, many of which to definitely keep an eye on.
So let's see together which are in our opinion
the most anticipated
games of the 2022 on Xbox Game Pass, the arrival of which has already been confirmed.
STALKER 2: Heart of Chornobyl
In S.T.A.L.K.E.R. 2: Heart of Chornobyl we will be able to explore a huge area of ​​the Incredible but true Alienation Zone, after 13 years from the release of Call of Pripyat, the S.T.A.L.K.E.R. seems destined to resurrect with Heart of Chornobyl, a chapter initially announced back in 2010 and passed through unspeakable vicissitudes that have characterized its development. In the new action role-playing game created by the Ukrainian team GSC Games World we will be able to explore the 64 square kilometers of the area of ​​the famous nuclear disaster, among mutants, abominations generated by radiation and other stalkers like us in search of precious artifacts.
At present, STALKER 2 would be scheduled for December 8, 2022 on Xbox and PC, but the doubts that revolve around this date are enormous, given the dramatic situation that is involving Ukraine and that has pushed the software house, to which all of our solidarity, to pause processing, thus fueling the hypothesis of a probable, new postponement.
Redfall
In Redfall the characterization of vampires will be really bizarre When we saw him at the last E3 he had not convinced us completely, nevertheless the potential of Redfall seems promising in view of its expected release for next summer. The first person shooter developed by Arkane Studios will catapult us to an island off the coast of Massachusetts populated by bizarre-looking vampires that can be explored in both single and co-op, for up to 4 players.
After Prey, Dishonored and Deathloop, with Redfall, Arkane intends to give a new sharp turn to its style and we just have to cross our fingers, the ash stakes and the garlic braids.
Starfield
The curiosity that revolves around the Starfield project is enormous If the phrase "Starfield will be released on November 11" many of us thought "Yes, but which year?", It is not just sarcasm but an automatically generated question considering the nature of the project. It is in fact the first, new intellectual property of Bethesda for 25 years now that promises to push the limits of videogame factors such as narration, freedom and contents, declining everything in science fiction terms.
Expectations are, uh, how to say, skyrocketing, especially after director Todd Howard stated that the making of Starfield was only made possible thanks to today's technologies, even though it was an idea born a long time ago. We confess: we are no longer in the spacesuit.
Scorn
The setting of Scorn is as disturbing as few It will be October the month of Scorn, a Serbian horror financed thanks to an organized fundraiser on Kickstarter started now 5 years ago. The experience that the Ebb Software team promises to offer us looks visceral and extreme, supported by a sci-fi imagery that seems to pay homage to the milestones of horror cinema.
The disturbing and indecipherable setting is certainly one of the strengths of this FPS full of repulsive creatures, and we hope that the narrative sector, of which very little is yet known, will be able to prove itself.
Somerville
Difficult imagine a more catastrophic context than that in which Somerville will immerse us "The vicissitudes of a family that finds itself immersed in a context of global catastrophe". Although a similar logline could indicate any time on planet Earth between 2020 and 2022, we are talking about Somerville, an action adventure with platforming mechanics that does not yet have a certain release date within this year.
Jumpship's debut work stages a post-apocalyptic world upon which, as if that were not enough, a threat of alien origin looms that has every intention of exterminating the survivors, with us who, toh, we will have the task of surviving.
Let's just hope this game doesn't provide any ideas for 2023, that's it.
A Plague Tale: Requiem
In A Plague Tale: Requiem we will return following the vicissitudes of Hugo and Amicia Programmed for a generic "2022" also A Plague Tale: Requiem. The sequel to the excellent Innocence will return to tell the story of Hugo and Amicia, two brothers fighting for survival in a France ravaged by the plague. In this second chapter the characters seem matured and ready for new, dramatic tests to reach a place they can call home.
If the developers of Asobo Studio manage to expand the gameplay by introducing new ideas but remaining faithful to the original , and they will make sure to replicate an already high-level narrative, we could really find ourselves in our hands an amazing title, which
will also be
available on
Playstation
and
Nintendo
Switch.
Warhammer 40.000: Darktide
In Warhammer 40,000: Darktide we will have to deal with a truly ruthless cult If you have commitments for the second quarter of 2022, cancel them, because we will have to defeat Admonition, a sect that is trying to take over the planet Atoma Prime by wiping out its inhabitants. Made by Fatshark, the developers behind Vermintide, Warhammer 40,000: Darktide is a crude 4-player co-op action that will transport us to the dark hive city of Tertium overrun by hordes of cult-loyal enemies.
Atmosphere, lead. and adrenaline, what else could you wish for? Ah yes, the screenplay is the work of Dan Abnett, famous English author, former collaborator of Marvel and DC Comics, and far from fasting the universe of Warhammer.
Sniper Elite 5
Still Nazis in Sniper Elite 5: Hitler has more lives than a cat for Rebellion developers Renewed character animations, even more refined environments thanks to the use of the latest techniques in photogrammetry, richer cooperative mode and cartloads of Nazis. What do I do, am I leaving?
Marksman Karl Fairburne and his trusty sniper rifle return on May 26, 2022, and this time they will have the goal of disrupting the plans of Operation Kraken, a top secret project Nazi aimed at ending the war before the arrival of the Allied forces in the old continent.
Five years after a fourth episode with a few too many flaws, Sniper Elite 5 will be available on Playstation and on day one on Game Pass , with the usual massive dose of heinous killcam and an Invasion mode that will allow us to enter the campaigns of others to snipe the unfortunates.
Trek To Yomi
The team behind Trek To Yomi has promised a refined and evocative setting From Hitler's Europe to feudal Japan, it's a moment thanks to the Game Pass. In Trek To Yomi, a title whose release has also been confirmed on Playstation, we will be Hiroki, a young samurai who embarks on a journey of growth in which different temporal planes are intertwined with the steel of the katanas.
It is about an adventure in 2D but with 3D graphics, with a cinematic cut and which adopts a stylish black and white to intensify the atmosphere. The Flying Wild Hog team has in fact promised great care regarding the settings, costumes and classical figures of the Japanese tradition. In short, the ingredients are all there, let's just hope Trek To Yomi doesn't decide to do harakiri.
Replaced
The atmosphere of Replaced promises to make all fans of the dystopian happy After having awakened a certain curiosity during its presentation at E3 2021, Replaced promises to be one of the most anticipated titles of this year by fans of the dystopian genre. Set in an alternate take on 1980s America, the debut project by Belarusian developers at Sad Cat Studios is a side-scrolling whirlwind of neon, luscious metropolitan decline, and spectacular combat.
Graphic style appears undoubtedly captivating, and mixes pixelart with a cyberpunk context in which the most total decay and that grayness typical of a bleak future stand out. All apparently beautiful, except for the release date: a vague "2022" that does not satiate our hunger for decay even a little.
And you? What are the games planned for 2022 on Game Pass that you await the most? Tell us in the comments below.
Have you noticed any errors?