Metroid Prime 4: ambitions and feminism - Lakitu's Sachet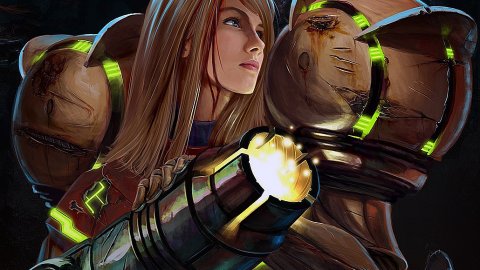 Metroid Prime 4
In the Metroid Dead review we talked about a great game and awarded it a 9, its Metacritic average is 88 and it received an award at the 2021 Game Awards for Best Action Game. It was hard to expect more, given MercurySteam's budget - high, but certainly not very high - and the resume - good, but not excellent - of MercurySteam. Not only that, the same EPD 7, the internal
Nintendo
division that took care of the creative direction, had encountered more than one problem with its first, and only, polygonal Metroid (remake excluded). Let's talk, of course, about Metroid: Other M.
Metroid Dread has managed to keep the quality high and remain faithful to the cornerstones of the series, while avoiding clashing directly with the recent exponents of the genre, if we want to call it (we recently retraced
the history of
metroidvania): the impression of being inside a labyrinthine world, but with an extremely conscious design it has avoided, in most cases, that the player gets lost, so that he could concentrate on the action and on the fighting, capable of sublimating an excellent - albeit complex - control system. Really could not expect more, given the premises: yet, despite being an excellent game, while projected to become the best-selling title of the series, Metroid Dread is far from representing what Metroid meant in the past.
The Samus Aran series (for the few readers who do not know, the bounty hunter protagonist of the saga) has experienced two golden periods, two periods in which she represented, together with Super Mario and The Legend of Zelda, the "sacred trinity" Nintendo: in the NES and SNES era, and in the GameCube era. Precisely in the generation of the cubic Nintendo console, even for two imperfect adventures of the plumber and Link (Super Mario Sunshine and The Wind Waker, with the latter however clearly superior to the first), Metroid Prime - developed by the Texans of Retro Studios - was even imposed as the best product for the console. Metroid Prime 4 will probably not succeed in this feat (difficult to overcome The Legend of Zelda: Breath of the Wild, with all the confidence possible), but it is time for Samus Aran to return to the Olympus of video games.
Let's write this article now because Retro Studios has recently updated its social pages with an original illustration of Metroid: it is not impossible that at the next E3 (a Nintendo Direct themed, in some way, there will be), finally, we will see something of the project.
Samus, Aloy and feminism
Before the facial hair conversations of Aloy, the protagonist of
Horizon Forbidden West
, were annihilated by the arrival of Elden Ring, the
Sony
promotional campaign was working spectacularly. Not only in promoting a great game, but also in highlighting her heroine: a brave and combative character, without overly emphasized physical forms. They seem trivial talk, but they are not: video games are still teeming with female figures who wink at the fifteen-year-old-male-white-western who was, and often still is, the industry's target audience. Characters that are not only aesthetically flat, but also rather ridiculous: how many times have you observed naked body parts, completely out of context, even in recent years? Maybe during a cold scene. In short, it is useless to point out again the dull sexualization of women in the world of video games: we are still very far from the end of the phenomenon, or at least from a reduction of it.
Many video game enthusiasts have referred to Aloy as a "new Lara Croft", also following the cover on Vanity Fair. From the opposite side (that is, that of non-players), mainly in relation to the arrogant (and, grant us, partially inappropriate) exhibition of the statue of the character in Florence, many have spoken of pinkwashing (or, in short, the ostentation of feminism to disguise a purely commercial operation). Obviously Sony didn't place that statue to rival Bernini: it did it to advertise the game and the figure of Aloy, who was warmed by the limelight, but who has very little to do with Lara Croft. She is a heroine for everyone, not just for men looking for eroticized figures. So: it is true that it was a marketing operation but, at the same time, it was partially justified by the characterization of the character itself, anything but banal or sloppy. Aloy is a well-structured heroine and, frankly speaking, works both in narrative and commercial terms.
Horizon Forbidden West: Aloy's statue in Florence We all know how conservative Nintendo is, yet when she heard Link himself as he got older, when he felt it was losing its bite, he did not hesitate to update it: after decades in a green tunic and pointed hat (which, incredibly, almost never fell off), the headdress has disappeared, and the shirt has become (the most representative of the game, at least) turquoise. His hair was pulled up in a ponytail, et voila, Link remained Link while changing his appearance. With Samus Aran, Nintendo has a golden opportunity. She is not only one of the oldest and most prestigious heroines in the history of video games, but also a warrior: she has a contemporary, very powerful character in her hands. Among other things, almost always covered in armor, for all those males - yes, they exist - who have difficulty identifying with a character of the opposite sex (think of the reverse process, girls would have very little choice).
It is essential that Nintendo clears the very banal doll-blond-with-neo aesthetic that was introduced starting with Metroid: Zero Mission, when the protagonist remained dressed in the sexualising Zero Suit, which enhanced its forms provocative. Now, let's be serious: why would a chick, even a busty one, wear such a suit to fight alien monsters? The answer is obvious, and it has nothing to do with Metroid's intradiegetic logic. The opportunity is truly precious: with Metroid Prime 4 Nintendo, and Retro Studios, they can give life to a charismatic and contemporary heroine. That detaches itself from the obscene "barbiesque" prototype created long ago; that she shows muscles, a warrior's clothing, a messy and dirty hair, a face without make-up and tired. How normal and right it is.
Metroid Prime 4, ambition and open world
Metroid Dread: what will Samus' armor look like in Metroid Prime 4? Although they are profoundly different games, Dark Souls's labyrinthine design has many points of contact with that of Metroid Prime. Dark Souls himself, to speak to contemporaneity and establish himself (again) as a reference point for the industry, had to deal with the open world - and, according to the critical response received from Elden Ring, it did so in an exceptional way. . Well, there is little to add on this point: if Retro Studios wishes to establish itself at the highest levels, it cannot only create a great episode in continuity with the original trilogy, but must embrace - in its own way, God forbid - the open. world. Metroid has always been an exploratory game, its formulas were used to give it character and personality, but in 2022 one cannot be exploratory in a primarily tunnel environment. Many fans will not like this position, and they will certainly contest it, but if Metroid Prime 4 wishes to establish itself as an industry excellence, it has no other way than (at least in part, if not totally) to hybridize with an open world structure. .
There is no doubt that Nintendo is investing heavily in this project. We do not know who was initially developing it (it seems Bandai Namco Singapore), but Shinya Takahashi - responsible for the entire software area - did not think twice about moving production, once he understood that the direction taken would not meet the desired quality standards. . And he brought the series back to Texas (from Retro Studios, in fact), now three years ago: a team, we imagine, rebuilt almost from scratch, which hasn't published anything original even since 2014. Considering all this, and also the many hires that have taken place in Texas in recent years, we imagine that Nintendo has spared no expense. And the goal cannot be to create a nice game: the goal, in fact, is to bring Metroid back to past peaks, peaks that, we imagine, can even be considered surmountable. Not so much in qualitative terms, as in the commercial sphere: Metroid has everything to take flight in that sense too. Before Breath of the Wild, no one could have imagined - almost no one, at least - that there would be a The Legend of Zelda capable of exceeding twenty-five million copies, and selling more than the contemporary Super Mario. Here, without aiming for much, Metroid must still aim for the sky, refusing direct comparison with its predecessors. Because becoming the best-selling title of the saga, also considering the installed base of Nintendo Switch, cannot be a goal: it can be for Metroid Dread, which has the possibility of surpassing - finally - those three million never reached. Metroid Prime 4, however, must be maximally ambitious: it must not aim for four, but ten million.
Both Breath of the Wild and Elden Ring have demonstrated, the latter more than the former, that one can remain true to oneself while embracing the open world. Metroid must set out along the same path: whether
it is in
first or third person (it is not obvious, in our opinion), that the shooter component is subordinate to the acrobatic one or vice versa. The possibilities are practically endless: one or more planets, alien races, monsters of all kinds. An isolated huntress in a boundless land, with a flood of destinations - threatening - available. Now: it's possible, because we haven't seen anything of the project yet, that Retro Studios is truly acting in continuity with the series' past. But would that make sense? How much, while perfectly crafted, would a traditional Metroid Prime have to say in 2022? A game where you often get stuck, where the constant acquisition of new powers is binding to advance, a game without large areas and free exploration?
Metroid Prime: a remake is coming, like appetizer of Metroid Prime 4? In our opinion, embracing the open world without betraying the soul of the series, therefore keeping a focus on the jumps and shootings, as well as on the disturbing isolation of the protagonist, is not only sensible, but almost necessary: ​​both to avoid locking oneself in a commercial niche, both to enhance the exploratory spirit of which the first Metroid for NES was filled, literally filled. If an adamantine realization of the project were to be added to all this, and a credible and contemporary reinterpretation of the character of Samus Aran, Metroid could really get where it had never been before. The possibilities are there, the moment is favorable. If it should meet Nintendo's qualitative requirements, and it does not arrive sooner than expected (we doubt it), it could also accompany - in Breath of the Wild style, therefore also coming out on Nintendo Switch - the launch of the next platform. Should this be the case, Metroid Prime 4 will be fundamental in deciding
the future of
the series: a future that could be composed of many, excellent Metroid Dreads, or a future in which Samus Aran will be on the same level - or almost - of Super Mario and The Legend. of Zelda. There are no middle ways.
Have you noticed any errors?