Ghostbusters: Spirits Unleashed, the preview of the asymmetrical multiplayer of the Ghostbusters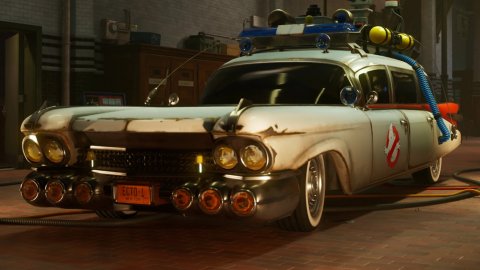 Ghostbusters
Illfonic is growing, specializing and as you will find out in this preview of Ghostbusters: Spirits Unleashed, it may be in the process of releasing its
best game ever
. After their debut title, dated 2012, Illfonic has turned to asymmetrical multiplayer producing games that are very immature, but no less fun.
Everyone remembers Friday The 13th: The Game, a technical disaster that hid various good ideas within it, an opinion that can also be used for the film that inspired it. With Predator: Hunting Grounds things didn't go much better, but the steps forward made by the software houses in just three years were still clearly visible. Their latest project dates back to less than a year ago, when the Arcadegeddon game debuted in early access which may not have a name as the previous games, but which is growing very, very well.
Ghostbusters: Spirits Unleashed is without a doubt their most important game, the one that could allow them a qualitative leap and, perhaps most importantly, a lasting interest from the community that in the past took less than a week to
move on to
other newer gaming experiences.
Ray and Winston
Ghostbusters: Spirits Unleashed: a corner of the natural science museum, one of the levels that we will have to free from the paranormal infestation Why Ghostbusters: Spirits Unleashed should succeed right where it have other games failed? First of all because it is done well, graphically it is pleasant and although we have not yet had the opportunity to try it by hand, but only to see it play for a good half hour, the feeling is that it is already clean enough. Another ace in the hole of the game is the chosen license, which lends itself very well to what Illfonic wants to achieve and for the first time is suitable for all ages, especially after the arrival of Ghostbusters: Afterlife in cinemas that has cemented the brand in view of new generations of enthusiasts.
Like all similar games, Spirits Unleashed also has its central hub which could not fail to be the mythical headquarters of the Ghostbusters. Here we will
be able to
hone our skills with proton backpacks in the outdoor shooting range, customize our character, improve the equipment by spending the points collected so far, talk to the two original ghostbusters Ray and Winston, present with official faces and voices, and finally of course accepting new jobs through the desk that belonged to Janine.
Once this is done, we will find ourselves in one of the different biomes that will be included in the game at launch, chasing a ghost led by another player (to make the game less dependent on online, this time it will be It is also possible to rely on an AI, both for ghosts and for companions) which will aim to possess all the humans present without getting caught by its ghostbusters enemies.
We revive, them. ..
Ghostbusters: Spirits Unleashed: To find the ghost we will have to use the original equipment of the films! To do this, the ghost will be able to exploit several powers: he can pass through very narrow cracks, spread slime that disturbs his opponents and in some cases even use minions, such as small goblins, to distract and sow them. Ghosts can also take control of commonly used objects, such as ashtrays and tables, to move around undisturbed or simply to have fun behind the hunters. The ghostbusters will rely on a more classic equipment, so as not to stray too far from the official setting, but which we will be able to upgrade in different ways that at the moment are largely still unknown. The will is to provide players with a sense of progression, without exaggerating. The hunt ends either when the ghost has infested the entire area, or when the Ghostbusters have reduced the ectoplasm to zero and finally trapped.
Dynamic Infestation
Ghostubusters: Spirits Unleashed: a corner of the headquarters of the Ghostbusters, where we can also meet Ray and Winston For its biomes, Ilffonic this time has decided not to rely on procedurality, preferring pre-established environments but able to change as the ghost approaches its purpose, becoming more and more muddy and twisted. In the one biome that has been shown to us, and which you will probably see in the upcoming trailer, the group will have to free and destroy the natural science museum as little as possible, then wandering among dinosaur bones, dusty basements and halls illuminated by the dim light of the large aquariums. The potential is there, growth margins as well, the quality seems to be high enough, you just need to understand if similar games still have room for maneuver in the current market, multiplayer side tending to free-to-play if not pure on-demand. .
Ghostbusters: Spirits Unleashed has all it takes to become Illfonic's best game. It looks fun to play and is undoubtedly well done, too bad we don't have a precise release date yet, but only a launch window that indicates the winter months of 2022 as the most likely. Ghostbusters: Spirits Unleashed will initially be available on PC (Epic Store only),
PlayStation
4 and 5, and the entire
Xbox
console ecosystem.
CERTAINTY
Technically solid Asynchronous multiplayer perfect for Ghostbusters DOUBTS Will it be able to keep the audience's attention high? Will the challenge be balanced and fun for everyone? Have you noticed any errors?