Steam Deck: unveiled the first 38 "verified" games, including Death Stranding, Dark Souls 3 and Sekiro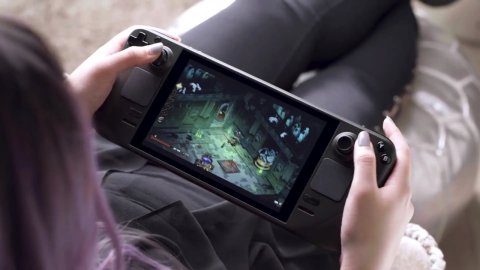 Steam Deck
With
the launch of
Steam Deck approaching, SteamDB has unveiled the list of the first 38 games to have received from Valve the "Verified" stamp, that is the mark that indicates the titles that work perfectly with the console without any additional intervention by of the user. Among these we also find Death Stranding and Sekiro Shadows Die Twice.
As announced in recent months, the Valve team is examining the more than 50,000 Steam games available to verify full compatibility with Steam Deck, a monumental operation that between the the other has requested the hiring of new staff.
Based on
the results of
the tests, the games can obtain three different stickers visible on their dedicated page: "Verified" indicates that the game works perfectly on the Steam Deck , without any additional work, "Playable" means a game that may require manual changes by the user to play, while "Not Supported" means a game that is not compatible with the console.
Regarding games with "Verified" sticker, currently 38 are reported by SteamDB, here is the complete list:
Portal 2 The Binding of Isaac: Rebirth Celeste Hollow Knight Dishonored Risk of Rain 2 Cuphead Castle Crashers P sychonauts 2 Webbed Sekiro: Shadows Die Twice - GOTY Edition Noita Dark Souls III Gunfire Reborn Mark of the Ninja: Remastered Tetris Effect: Connected Total War: WARHAMMER II Death's Door Manifold Garden Into the Breach Death Stranding The Messenger Ape Out Record of Lodoss War- Deedlit in Wonder Labyrinth- Mad Max Final Fantasy Guacamelee! 2 Rogue Legacy 2 Super Mega Baseball 3 Dark Souls II: Scholar of the First Sin Circuit Superstars Scarlet Nexus Remnant: From the Ashes Sable Aliens: Fireteam Elite
Hot Wheels Unleashed
Tunche RAD
Steam Deck In the "Playable" category, instead, we find 24 games:
Factorio RimWorld
The Witcher 3
: Wild Hunt Slay the Spire Dyson Sphere Program Cookie Clicker Inscryption Plants vs. Zombies GOTY Edition Subnautica Tomb Raider Valheim Crypt of the NecroDancer Rise of the Tomb Raider Farming Simulator 19 Cats in Time Stormworks: Build and Rescue Nier: Automata Black Skylands Bravely Default 2 War Thunder Tribes of Midgard Season of Mistery: The Cherry Bloosom Murders Swords of Legends Online Among Trees
Finally 5 games are reported as "Not Supported":
Persona 4 Golden Job Simulator theBlu Arizona Sunshine Budget Cuts
Obviously we assume that Valve has already tested a much larger amount of games than those listed above from SteamDB. Considering that the launch is set for the end of February (and apparently there will be no further postponements) probably in the coming weeks, an official page will be published with the complete list of verified games.
Have you noticed any errors?
---
Valve reveals which games are verified for the Steam Deck
With Steam Deck expected to reach the hands of customers sometime next month, Valve is publicly labeling which games will and won't work on the mobile PC.
Valve currently has four game classifications on the Steam Deck, with "verified" meaning that players will be able to play a game seamlessly, while "playable" games will require the user to make some changes. A decent number of Steam's games will also be unsupported on the Steam Deck, namely all VR titles listed on the online games marketplace.
A list of all Steam Deck-rated games has been put together on SteamDB, although it's much smaller than Steam's full catalog, clocking in at just 67 titles. Of that 67, not every game is Steam Deck-verified either. A significant number of games, including Dyson Sphere Program, Valheim, Inscryption, and more are currently listed as "playable" on the Steam Deck. In many of these cases, in-game text is too small to read on the Steam Deck's portable screen, or players have to use the Steam Deck's touchscreen or on-screen keyboard.
That's not to say that there isn't a decent list of Steam Deck-verified games as well. Death Stranding, Sable, Noita, Cuphead, and many other titles are listed as working perfectly on the Steam Deck.
For the Steam Deck, this list will possibly determine whether or not the experimental console succeeds or fails. While the novelty of accessing a Steam library's worth of games on the go is attractive, it won't mean much of many of those titles are unplayable or require numerous tweaks on the part of users.
Editors' Recommendations