Genshin Impact: Zekia's Kamisato Ayaka cosplay is full of grace and elegance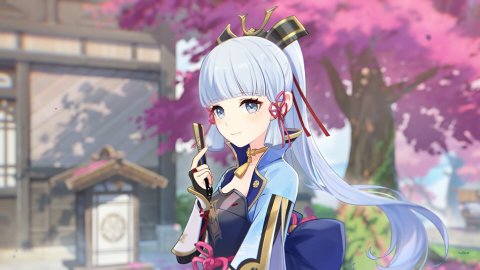 Genshin Impact
Genshin Impact is one of the most popular games of the moment also thanks to a varied and charismatic cast of characters, which made it particularly popular even among cosplayers. What we propose today is the cosplay of Kamisato Ayaka of Zekia that takes us to Inazuma with a really convincing interpretation.
Kamisato Ayaka is descended from the Kamisato clan that leads the Yashiro Commission, one of the three groups that govern Inazuma . She is described as a kindhearted girl who treats others with kindness and courtesy. However Ayaka is also a phenomenal fighter who harnesses her sword skills and ice-related powers to get rid of opponents.
Zekia's cosplay is undoubtedly well done and perfectly represents grace and elegance. of the character. The costume is also well made and shows a particular attention to detail, among which the replica of the Mistsplitter Reforged sword stands out. The location chosen for the shot is then perfect as she remembers Inazuma a lot, who, for the uninitiated, is inspired by Japan.
Remaining in the Teyvat of Genshin Impact, we also recommend the cosplay of The
Lady of Oichi
who freezes even hell.
What do you think of the cosplay of Kamisato Ayaka from Genshin Impact signed by Zekia?
Have you noticed any errors?
---
Genshin Impact reveals gameplay details for the next Windtrace event
Genshin Impact events are a smorgasbord of different gameplay features. One day you might be fighting enemies, playing Fall Guys-esque minigames, or playing hide-and-seek. Yeah, we have variety. Next in the rotating list of event modes in the ever-popular gacha game is the Windtrace event. Which is just hide-and-seek. Or really, it's just Propnight. You can turn into objects around a map and hide from a seeker. It's pretty simple.
It was also a lot of fun, and a way to actually play with your friends. Genshin Impact does allow for co-op, but any cooperative play is severely limiting. There's just not much to do, so anytime you can have a fun time with your friends in this game is a win. The Windtrace event has already run before in Genshin Impact, but this rerun is expanding with some new maps and gameplay additions.
The event starts today, January 13, lasting until January 27 and will be open to players ranked 20 and above. You'll be able to start the event by talking to the NPC Gygax and forming a custom co-op party or going through a matchmaking system. You'll either play as a Rebel, the hiders, or the Hunter, the seeker.
It's a pretty easy concept. If you gotta hide, just hide. If you gotta hunt, hunt your prey. Throughout the event, you can earn Windtrace Coins to earn prizes such as Primogems, Mora, or Hero's Wit. Players also can choose from certain buffs depending on their roles. Don't forget to disguise often to turn into objects like barrels or crates to throw off the Hunter. A much appreciated nerf is also in the game, as characters like Mona and Kamisato Ayaka can no longer use their special sprints to sink into the floor. No cheaters in hide-and-seek, please.
You can read more about the Genshin Impact Windtrace event on miHoYo's official website here.